Thoroughly Modern Millie
Book Richard Morris and Dick Scanlan, new music Jeanine Tesori, new lyrics Dick Scanlan
Watermill Theatre
Watermill Theatre Newbury
–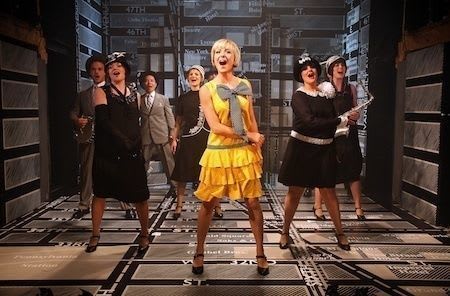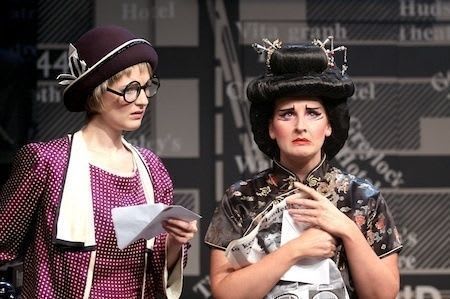 Once again, the Watermill Theatre have a delightful summer hit on their hands with the splendid sparkling musical Thoroughly Modern Millie.
It's a simple story set in New York during the 1920s when flapper girls were expressing their new found freedom and prohibition gave rise to speakeasies where liquor was easily purchased.
Eleanor Brown gives a tour-de-force performance as Millie Dillmount, who leaves her Kansas home for the Big Apple, determined to marry her boss. Undeterred by having her bag stolen, she checks into an all-girl hotel and meets the wicked oriental proprietor Mrs Meers, deliciously characterised by Amy Booth-Steele, who has a lucrative sideline of selling any orphaned guests into the white-slave trade in Hong Kong.
She is ably assisted by her bungling Chinese laundrymen Bun Foo (Dexter Gallang) and Ching Ho (Benjamin Wong) who bring some added fun to this effervescent production. Their rendition of Al Jolson's "Mammy" in Chinese with silent movie style subtitles is hilarious.
Millie's incredible speed at shorthand and typing gets her a job with the Sincere Trust Insurance Corporation and she sets her sights on the boss Trevor, a sterling performance from Paul Matania. But true love never did run smoothly and Trevor has eyes for the innocent, wide-eyed Californian Miss Dorothy (Helen Power). Millie does eventually find romance though with the audacious man about town Jimmy (Lee Honey-Jones).
There is excellent support from Millie's roommates Gloria (Lauren Storer) and Lucille (Cici Howells) and Moyo Akandee as the imposing nightclub singer Muzzy. The impressive ensemble is completed by Mathew James Hinchfield as Rodney and Alex Turney playing Dexter.
Director Caroline Leslie has a dream cast to work with and her direction is fast-paced and spot on, as is Alistair David's inspired choreography. The cast are highly talented actors, singers, dancers and musicians and Jeanune Tesori's new music is terrific with pastiche from Gilbert and Sullivan and a jazz version of the Nutcracker Suite.
Tom Rogers's black and white set of a map of Manhattan is magnificent with sliding panels suggesting hotel rooms, prison cells, office typing pools, speakeasies and a lift that only works if the occupants tap dance, all skilfully stage managed at breath neck speed.
This is a high-energy exuberant production that has the feel-good factor in abundance.
Reviewer: Robin Strapp