Three Birds
Janice Okoh
Royal Exchange Theatre Studio, Manchester
–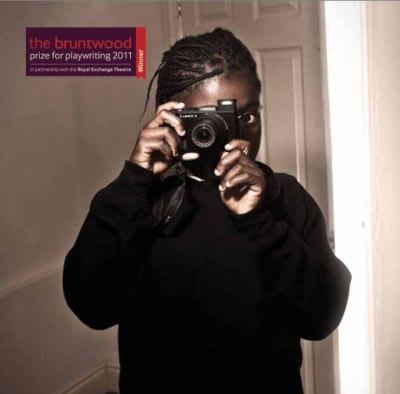 Three siblings ranging in age from primary school to college, their mother mysteriously "gone away", try to embalm a chicken in their living room with bottles of vodka and various implements ordered from Amazon.
"Dr Feelgood" keeps calling for money he is owed by the mother Claire—his name suggests he could be a drug dealer but it is never specified what the money was for—but he also acts in an almost fatherly way towards the trio. Meanwhile youngest girl Tanika believes that her teacher Ms Jenkins will take her home with her, and contrives a way to get her into the house.
This is the premise of Janice Okoh's play that took the £16,000 first prize in the 2011 Bruntwood Prize for Playwriting, which has been directed by artistic director Sarah Frankcom for the intimate Studio space.
Designer Louie Whitemore has placed the action in a convincingly naturalistic box set of a living room with a front door, window, tiny kitchen and other rooms off.
The play works best in the moments when it is being a farcical comedy, keeping the audience guessing about the mother and the chicken and in suspense about whether they will be discovered and split up by Social Services. When it tries to get serious, it loses its way a bit, and rather than being shocked or repelled by the blood and gore, I found myself feeling sorry for whoever has to wash the costumes every night.
The character names are confusingly similar—they are all referred to as simply "T" at some point—but I think I managed to untangle them. Susan Wokoma clearly stands out as effusively talkative youngest child Tanika; while she is clearly too big to be a primary school child, she makes it very easy to forget that small fact with a totally convincing and very funny portrayal.
Lee Oakes does a very good job of putting across the conflicted hard man Dr Feelgood, and Claire Brown plays condescending primary school teacher Ms Jenkins mainly for laughs, but that doesn't mean I haven't met a few like her. The cast is completed by Michaela Coel as oldest daughter Tiana with dreams of her own beauty salon and of their own home together and Jahvel Hall as largely-mute brother Tionne.
This play fits well into the Studio and provides an entertaining couple of hours, but it's hard to put out of mind that this play won one of the richest playwriting prizes in the country, more than double the current Writers' Guild / ITC minimum rate. While it is quite fun in parts, as a colleague said at the interval, referring to the previous Bruntwood winner, "it's no Mogadishu".
If you're struggling to get a ticket for the excellent Mockingbird in the main house, then these other three birds will help you to pass the evening agreeably, but don't expect to be witnessing any "next big thing" in theatre.
Following its run at the Royal Exchange, Three Birds transfers to the Bush in London from 20 March to 20 April.
Reviewer: David Chadderton