Three Men in a Boat
Jerome K Jerome
The Original Theatre Company
The Haymarket Basingstoke
–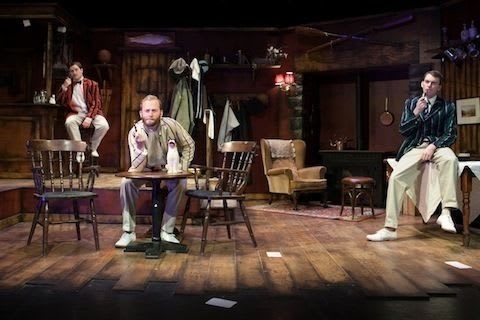 The award-wining Original Theatre Company's Three Men in a Boat by Jerome K Jerome is a spiffing story full of fun and adventures as three chums embark on a boating trip along the Thames from Kingston to Oxford.
Craig Gilbert has done a splendid job of adapting this much-loved yarn and also directs this inventive production with pace and verve.
The three superb actors—Tom Hackney as the haughty Harris, Christopher Brandon playing the easy-going, discerning George and Alastair Whatley as the pompous J—give wonderful, energetic performances with outstanding comic timing. They live this water exploit with a passion and commitment that is a joy to watch.
The fourth member of these intrepid travellers is Montmorency the dog, cleverly presented—I'll not spoil it by giving away how, but it is hilarious.
The story unfolds in the back room of The Elusive Pelican pub where all the tables, chairs and bric-a-brac become the boat, props and the riverbank in an ingenious, convincing set design by Victoria Spearing. The cast revel in creating the different scenes as well as myriad characters they meet on their journey.
The audience become the members of the Royal Geographical Society awaiting a lecture from Mr Jerome.
Pamela Wiggin's costumes perfectly reflect the Edwardian period with striped blazers and boaters.
The addition of Sue Appleby as Nelly the pianist is inspirational as she brings a new level of humour to the piece, including some traditional songs such as "Row Row Row the Boat" to some musical pastiches of "Chariots of Fire" and "The Titanic".
It's all jolly good fun with the audience lapping up every minute of the trio's actions. The end of the first act with a spirited rendition of the calypso "Daylight Comes" is deliciously farcical.
The stories in act two continue to descend into chaos tinged with some sadness as they find the body of a woman floating in the river, but the melancholy spell is soon broken with attacks from swans and a spoof spaghetti western to the strains of "The Good the Bad and the Ugly" with a tense game of cards that results in the indigent Nelly being shot—by Harris's pipe.
There is so much to enjoy in this wonderful production. Forget the current gloomy financial situation and let the highly-talented Original Theatre Company raise your spirits with this side- splitting gem. Highly recommended.
Do try to catch them on their tour during November to Margate, Buxton, Loughborough, Uppingham, Lincoln, Croydon, Derby and Scarborough.
Reviewer: Robin Strapp