Three Sides of Balanchine
George Balanchine
New York City Ballet
New York City Ballet
–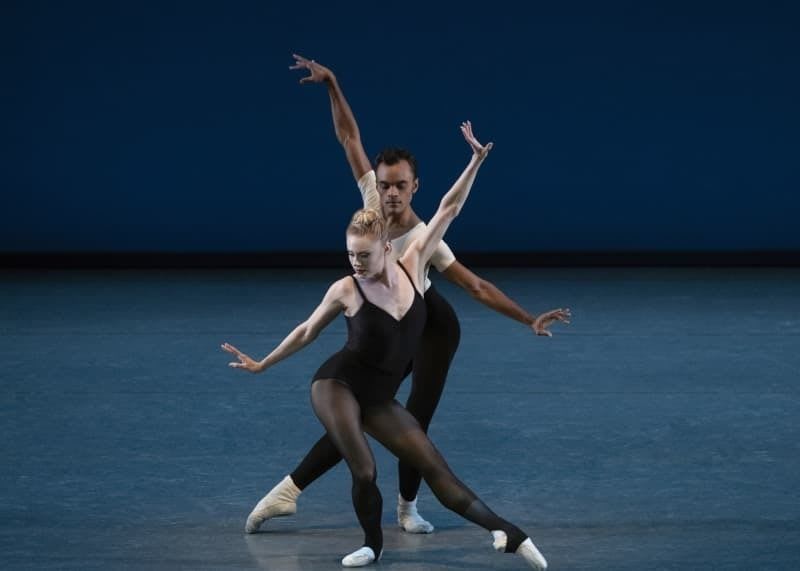 As part of their digital season tribute to George Balanchine, their founder, New York City Ballet has streamed three of his ballets, exploring three aspects of his choreography: the narrative, the classical and the neoclassical.
The season began with Prodigal Son (premièred 1929), a biblical story of sin and redemption set to music by Sergei Prokofiev, which I have already reviewed for British Theatre Guide. The season continued with the stylish and exacting Themes and Variations, which is set to the second movement of the Tchaikovsky Orchestral Suite No 3. The scenery and costumes are designed by Nicolas Benois.
With the aid of Tchaikovsky's music, Balanchine evokes the great period of classical dancing when Russian ballet flourished. The ballet, a tribute to the Imperial Russian Theatre and The Sleeping Beauty in particular, premièred in 1947. What we are seeing streamed is the 1993 version which was filmed in 2016.
Tiler Peck and Andrew Veyette give a virtuoso display of classical dance's vocabulary. The male corps dancers, arriving after the interspersed solos and extended duet, fill the stage for a grand polonaise climax. I enjoyed Theme and Variations so much, I immediately watched it again.
The third ballet streamed is Stravinsky Violin Concerto. Stravinsky wrote his concerto in 1931. In 1941, Balanchine choreographed Balustrade. In 1972, he returned to the score for The Stravinsky Festival. This performance was filmed in 2018.
The music and the dancers, all in black and white, quickly draw an audience in with their playful sparkle and wit. The choreography, with its fast footwork, constantly changing moods and different combinations, opens with a Toccato and finishes with a Capricco and 24 dancers having an exhilarating time.
In between, there are two arias with contrasting pas de deux for two different couples, which alternate between tortured and caring and generous and manipulative. In Aria 1, the man is in control. The relationship is strained, confrontational, barbed and Tiler Peck and Andrew Veyette keep their social distance.
Aria 2 is more romantic. The couple are physically much closer to each other and more trusting. The woman is vulnerable and needs all the support the man can give her. Sterling Hyltin is petite. Ask la Cour, very tall (well over six foot), gives her that support.
Stravinsky Violin Concerto, bright and exuberant, one of Balanchine's most popular ballets, features Sara Mearns, and Taylor Stanley and lasts 23 minutes. There is so much to take in; the choreography is unfailingly interesting. Like me, I bet you will want to watch it again immediately.
Reviewer: Robert Tanitch