Three Sisters
RashDash, after Chekhov
RashDash, co-produced with Royal Exchange Theatre
Tobacco Factory Theatre
–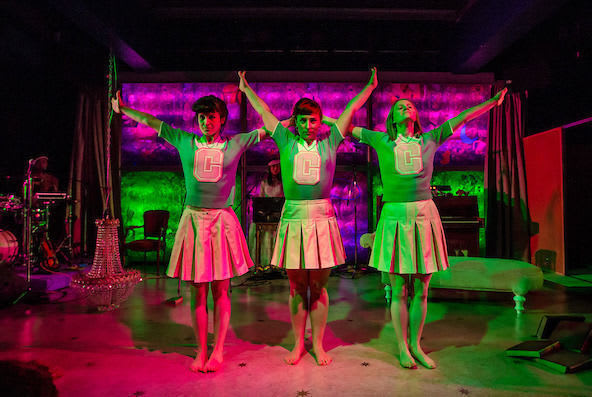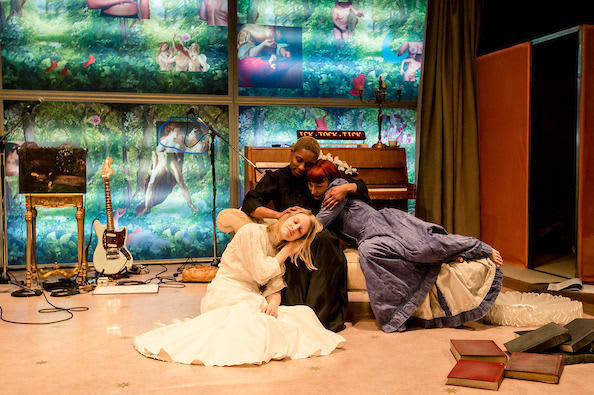 There's little in this show's title and its innocuous-sounding 'After Chekhov' disclaimer to suggest the anarchic, exhilarating and playfully intelligent subversion that lies within.
While RashDash is well-versed in tackling the social and political ideas behind traditional narratives, this is its first foray into interpreting a classic. It takes a drawing room in 1901, somewhere in the Russian countryside, where three painfully constrained sisters are living out their days, and asks why.
If male, the characters would be philosophising, but, with all men removed from the play, their feminine talk is viewed as lacking in merit. That is until the consciously disjointed narrative is blasted apart with music, from vibrant and incisive punk to mournful power ballads, before being cradled back together with the lingering shared physicality of movement and dance. It's less an updating of a familiar story and more an explosive examination of how the dead white guys still get so much attention.
The framework of Chekhov's writing and his big questions—of dreams, dissatisfaction and isolation—remain in this mixture of forms, but these three sisters throw in a few of their own. Olga (Helen Goalen), Masha (Abbi Greenland) and Irena (Becky Wilkie) unfetter themselves in a frenzy of costume changes that suggest this play's many reinventions. After baring all, they transform into present-day young women. What resonance does Chekhov hold for them? Why do the men still get all the best lines?
Aspects of the dissection of the staging and meaning of theatre recall the perceptiveness of Dead Centre's Chekhov's First Play. Time passes with an endlessly looping Tick Tock on an LED screen, while Irena is still being enchanted by a spinning top. But now, questions of love and destiny are wrapped up in creating events on Facebook and swiping on Tinder.
Interspersed with the music and dance are witty explorations of the weight of the playwright's canon. The sisters become Chekhov's cheerleaders and two pinion the third to the floor under a pile of dusty tomes. Newspaper reviews of various Three Sisters revivals are read aloud, mutating into song, from male reviewers opining about who should and should not be permitted to interpret the work.
Not a weak link can be discerned in the three superlatively self-aware performances: raw, energy-charged, and full of heart. The company's two talented musicians—Chloe Rianna on drums and Yoon-Ji Kim on violin and synth—are well-integrated into the action and given their moments to shine. Rosie Elnile's set design—a fallen chandelier, a bathtub and a disconnected view—simply and inventively accommodates the piece's themes.
RashDash's Three Sisters is feminism unstoppered, riotously entertaining and empowering but also personal and reflective. When the early 20th century costumes are rebuttoned, there's a sense that the genie is being shoved back into the bottle, but with every expectation that it won't be staying there for long.
Reviewer: Claire Hayes