Threesome
Cloud Nine
Customs House, South Shields, and short tour
(2005)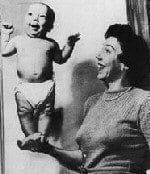 Three short comedies by new - or comparatively new (i.e. with one professional writing credit) - writers, produced by Cloud Nine and directed by Neil Armstrong. The three plays came from a Playday at the Customs House, a workshop culminating in a rehearsed reading, after which the writers produced further drafts which were further discussed by the company. Then final versions were produced.
Spent
By Sarah Millican
Spent is a play about Alzheimer's and its effect upon both the sufferer, Alan (Jack McBride), and those around him, in particular his second wife Beryl (Jennifer Brewis). Writer Sarah Millican is a stand-up comedian (voted second funniest woman in a national stand-up competition earlier this year) and this is her first play. Generally it works well, and is quite moving as well as being funny but, like many stand-ups who turn to writing, she cannot resist putting in jokes which add nothing to the play, although funny in themselves. Spent is strong enough in its treatment of the subject matter and in finding the humour in a sad situation without needing these extraneous laughs. They only serve to turn the attention of the audience away from the meat of the play, albeit briefly.
The action switches between the care home in which Alan lives, looked after by the empty-headed and not particularly caring teenage carer Freda (Susie Burton), and a cafe which Beryl frequents and where she meets just-sacked security office Ted (Sean Kenny). It is in these cafe sequences where the audience's attention is diverted from the main drift of the story into an unnecessary sub-plot which involves Pearl (Beryl's mother, played by Dolores Porretta-Brown), whose job is selling sex toys, and another cafe customer (Colin Cuthbert) whose sole function seems to be to get a laugh by desperately buying an inflatable from her.
It's a very promising piece, however, and Millican nicely combines humour and pathos to give us an understanding of the mixture of pain and guilt experienced by those whose loved ones suffer from that most distressing of conditions.
Influence
By Paul Buie
Paul Buie won the Customs House Comedy Festival in February of this year with Jump You Bastard, a cleverly constructed full length piece in which the relationships and what was reality and what fantasy became clear only gradually. Influence works in a similar way: what we see at first as a confrontation between a businessman and a thief whom he has caught trying to rob his warehouse turns out to be something entirely different.
Like Jump, it is a very black piece and the humour comes from the way in which the characters relate (and speak) to each other. There is not a single "joke" in the play. Buie plays upon a complex of emotions. When the thief Clark (Dylan Mortimer) is tied up by businessman Russell (Sean Kenny), there is pleasure, even joy, at seeing the criminal get his just deserts; then the situation is reversed and Clark gains the ascendancy; then, with the arrival of Keen (Danile Carver) the twist comes. But it isn't a twist in the tail, for the play continues, and suddenly we have the same situation as at the beginning but with our sympathies totally reversed. And all the time we laugh.
Buie is becoming quite expert at manipulating his audience. He is definitely a playwright of whom we shall see more in the future.
Ambulance Chaser
By Simon Moore
The whole company (with the exception of Jennifer Brewis and Colin Cuthbert, who is credited as stage manager) come together for the final play of the evening. Simon Moore's Ambulance Chaser is a rather surreal piece about a secret society dedicated to eliminating risk in society at large. With a cast of odd-ball characters, it piles absurdity on absurdity but, regrettably, comes to a somewhat unsatisfying conclusion.
Having said that, it is a generally well constructed piece with characters who, in the surreal world which Moore creates, are believable. Professionally involved in film, he has a background of writing sketches for the Cambridge Footlights and has written one other play, for a youth theatre, so this is his first professional theatrical production. It shows definite promise.
The company of seven (eight if we include SM Cuthbert), under the firm and clear direction of Neil Armstrong, give these new writers great support and get the best out of the plays.
Too often new comedy writing can be embarrassing or even excruciating. These plays have benefited enormously from the workshopping process they have undergone with Cloud Nine and the Customs House audince was treated to a good night out!
"Threesome" will be performed at the Saville Exchange, North Shields, on 29th September, and the White Swan, Killingworth, on 20th September.
Reviewer: Peter Lathan