Thriller Live
Original concept by Adrian Grant
Flying Music Group
Lyric Theatre, Shaftesbury Avenue
–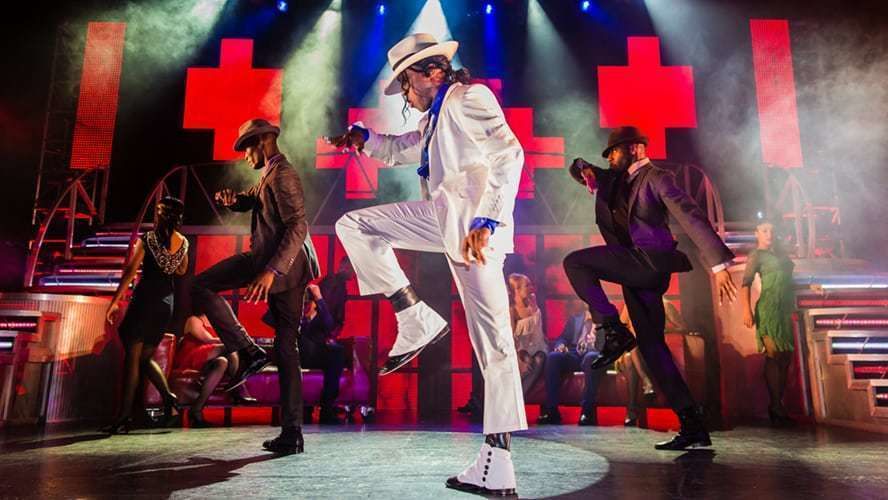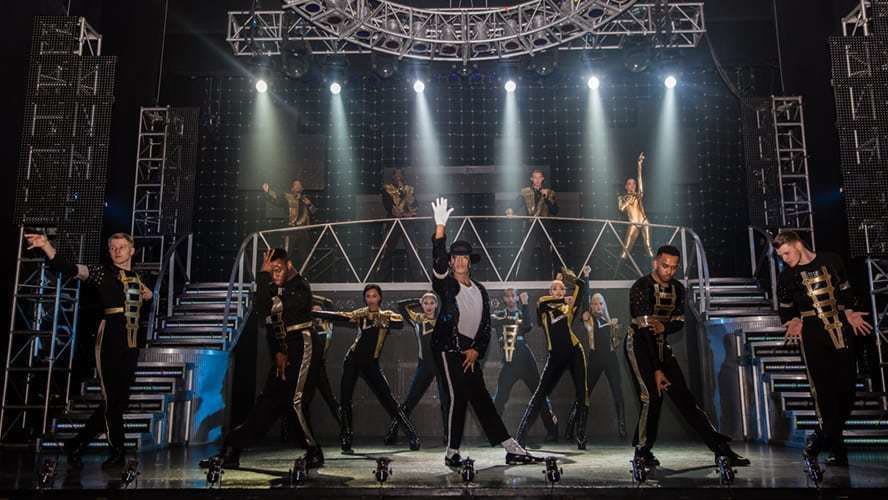 January 22nd was the tenth anniversary of when this production opened at the Lyric, making it the longest running show that that theatre has ever hosted, and this was celebrated by a special performance in which previous members of the company joined the present cast and with a company party.
Thriller Live isn't a jukebox musical with a storyline built around 'King of Pop' Michael Jackson's songs but the songs themselves in almost continuous sequence with the occasional introductory comment (of which there was rather more on this special occasion).
There are nearly forty numbers that span Jackson's career from his boyhood number ones right up to his last songs, all staged with an explosion of energy. This isn't an attempt to reproduce Jackson performances in facsimile; the songs are shared between a number of lead singers male and female, but in the staging, director Gary Lloyd's vigorous choreography reflects Jackson's style as it ranges eclectically,
It is presented with panache on a simple setting of twin side stairways leading up to a walkway but with a dazzling array of lighting and standing and suspended LED screens supplying electronic décor and animation and with bright costumes that glitter with gold and sparkle with spangles.
Musical director John Mayer and his five bandsmen set the pace for the hard-working cast who, flexing limbs, make it all seem easy whether twitching robotically or in acrobatic street dance. Each number becomes a separate story with some reproducing elements of particular videos (with "Thriller", of course, as the high spot) in which Florivaldo Mossi takes on the Jackson role executing his dance steps with accomplished precision. BTG's last review of this Lyric production show commented on its lack of zombies. They are there now, on screen and as live manifestations.
"Thriller" itself doesn't come until well after the interval but the show has only just started when you get a first glimpse of that famous down-tilted Fedora and familiar footwork as a promise of what's to follow after an eleven-year-old Jackson (played by one of six who share the role) leads into a succession of Jackson Five hits.
With many former cast members among the fans in the audience for this special celebration, the place was packed with emotion but I believe it is almost the same every other performance for in pantomime style they are encouraged to participate in competition, with the whole audience eagerly rising from their seats to join together in a simple routine and taking up every invitation to clap along.
There are only a couple of numbers that let up on the repetitive rhythms and things get a little quieter. If you like it loud, you'll be happy, though it makes lyrics hard to hear, that probably doesn't matter: you'll know them anyway and be hypnotised by the non-stop dance moves.
You might think this is just a commercial exploitation of a showbiz phenomenon, but it comes over as having genuine feeling. After ten years, Thriller Live still packs excitement and the feeling that everyone in it is having a good time. It could well still be there in another ten years.
Reviewer: Howard Loxton