Thriller Live
Adrian Grant
Flying Music
The Lyric, Theatre Royal Plymouth
–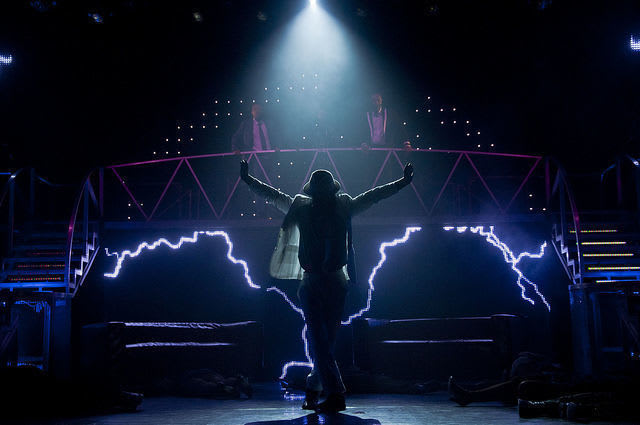 Thriller Live is still electrifying packed, mixed auditoriums some 12 years on with fans young and old ready to clap along to an extravaganza of well-loved Michael Jackson songs, dance and moonwalking.
An enthusiastic line-up hardly draws breath in the fast-paced jukebox show of classics from Jackson 5 days onwards with the King of Pop's songs shared among five lead vocalists—appropriately black and white, male and female—and the iconic moves and costuming spot-on.
There's no storyline to bog down the 'celebration' which packs in the hits from 45 years of chart toppers with a couple of guitar solos, a somewhat carefully chosen biography and headline facts and figures allowing quick changes and time for the dynamic company to catch their wind.
With heavy reliance on LED screens providing psychedelia, images (but Mother Theresa, JFK and Martin Luther King rather OTT and smug) and X-Factoresque facts, an energetic ensemble thrill with break dance-offs and acrobatics, whizzing sofas and much strutting as Gary Lloyd's lively choreography (with moonwalking and crotch-grabbing a-plenty) adds dimension and occasional vignettes to a piece that, for all its feel good appeal, lacks substance.
Resident director, languid MJ look-alike (even down to the glowing teeth in ultraviolet light) Britt Quintin is master of the pared back MJ ("Earth Song" and more), Superstar runner-up Rory Taylor channels the King of Rock while The Voice semi-finalist Alex Buchanan returns with his soulful vocals taking their turn to belt out a playlist ranging from "ABC" and "I'll Be There" through "Blame It On The Boogie" and "Shake Your Body" to "Dirty Diana, and, of course, Thriller.
But stealing the show are mystery man Eddy Lima and the indefatigable Ina Seidou.
Lima has all the moves, a familiar way with tilted hat and single glove, and quite a voice with "Smooth Criminal" and "Beat It"... well… thrilling while slinky Seidou's tremendous range is at times plaintive (young MJ pieces and romantic duets) or sexy and strident (even on towering heels). Great stuff.
Sadly hidden away behind a screen, and only escaping for the odd spotlit solo, is a very capable band which, under the precise direction of Andy Jeffcoat, is equally adept with pop and R&B as ballads and Motown, while Chris Whybrow's sound design is precise, crisp and pure whether quiet "I'll Be There" or big and "Bad".
Somewhat sentimental and one-dimensional but perennially popular.
Reviewer: Karen Bussell