Thriller Live
Created by Adrian Grant
Lyric Theatre, Shaftesbury Avenue
(2010)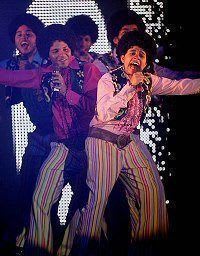 Thriller Live was reviewed by Ben Aitken a year ago, so why a re-review so soon? The biggest, and most poignant change over the past twelve months (whatever one's view of the man) is that Jackson is no longer with us. An already hugely popular show, with a regular fan-base, has undergone changes too, with a new cast and some new songs.
There is no story as such, just an attempt to compress a career spanning 47 years into two and a half hours, and undoubtedly it's a big call. A backdrop with moving images helps but only the surface can be scratched and the music must do most of the talking.
Maria Lawson of X-Factor fame is the major female lead and has a powerful voice to be reckoned with. Her range is perfect for 'The Way You Make Me Feel'; that a woman sings a man's lyrics fits in with an egalitarian ethos that fuses gender, colour and creed.
The Jackson Five of the first half are given some truly awful wigs. And, some of the connecting narrative is a bit on the sickly side. The second half pulsates, and a highlight is 'Smooth Criminal', given a 1920's infusion of gangsters, molls and prohibition. The climax is probably 'Thriller' itself, where this fairly small cast uses every ounce of energy to live up to the grave-dancing ghouls of the original. It's a job well done.
Director and choreographer Gary Lloyd has a fine ensemble here, with some strong and at times beautiful singing and exhilarating dancing. A superb live-band provides a taste of authenticity: it was really quite something - thrilling - to hear, live, the opening strains of 'Billie Jean'.
So, a happy, loud and slick evening featuring a selection of hits that are known and loved (the choice of which can vary from performance to performance) - and, be prepared for hand clapping and a certain amount of audience participation.
There is no attempt to replicate: this is a tribute, albeit a loving and caring one (lead vocalist and dancer Rico Baird knew and worked with Jackson). It did make me want to come home and listen to the originals - and it did make me regret never seeing the man perform live, and perhaps that is the greatest tribute that a tribute musical can hope to instill.
Visit our sponsor 1st 4 London Theatre to book tickets for Thriller Live
Reviewer: Anita-Marguerite Butler