Thrill Me: The Leopold and Loeb Story
Book, music and lyrics by Stephen Dolginoff
Climar Productions
Tristan Bates Theatre
(2011)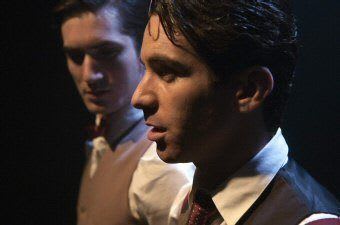 Love: the things we do for it.
Let us get out of way the fact that this two-hander is based on the true story of the murder of a child, arguably not one's immediate notion of suitable theatre material; however, it would be a shame to let this cloud what is simply a terrific piece of theatre.
Nathan Leopold and Richard Loeb were childhood friends from affluent Chicago backgrounds and headed for careers in law. We first meet Nathan seated before a 1954 parole board that is re-considering his thirty year prison sentence. The removal of convict garb reveals a flashy 1920's suit and heralds a story sung mainly in flashback but with occasional flips between past and present.
It is Nathan's unrequited passion for Richard that allows the idea of being thrilled to take on a double meaning. Nathan wants to be thrilled to the core by mutual love; Richard manipulates this need to foster his own thrill for crimes that begin reasonably small (the odd fire here and there).
But, as with any drug, the need becomes ever larger to ensure satisfaction. A Faustian pact between the two suggests the promise of intimacy for Nathan in return for his part in a murder proposed by Richard.
Both men sing with beauty and clarity of diction not often heard today; every word rings out clear as a bell with duets so gorgeous that at moments the subject matter fades, yet director Guy Retallack brings us back on track.
Jye Frasca captures Nathan's mounting sense of anxiety as he loses himself to the madness of obsession yet is able to convey a pleasing tone of ambiguity as to which of the twosome ultimately holds the upper hand. George Maguire's Richard is a study in how to compel, repel, and seduce all at once, particularly when - seemingly addressing the audience - he entices a small boy into his roadster.
Stephen Dolginoff has enjoyed success with the production in New York; his lyrics are deceptively clever - sometimes witty, sometimes simple, whilst deploying rhetorical skill to great effect, particularly on Richard's repetition of the refrain "if we killed my brother John" as he develops his argument, dismissing the killing of a family member in favour of murdering a stranger.
A third star should be mentioned: musical director David Keefe, whose mesmeric piano playing is the sole accompaniment to this eighty-five minute sung-through piece of seventeen songs (with the exception of pre-recorded spoken voices from Patricia Quinn and Lee Mead as parole officers, and Les Dennis as radio announcer). Richard Williamson's lighting adds intensity to James Turner's inventive set, one that morphs seamlessly from Joliet Prison to Chicago locations.
Thrill Me: The Leopold and Loeb Story continues a tradition at the tiny Tristan Bates for big brave productions, as seen in the recent Woman Bomb. Go and be thrilled (not by the subject matter) but by performers who are able to make us ponder the unthinkable: just how far we might go in the name of love.
To 30th April 2011
This production transfers to the Charing Cross Theatre from 17th May to 11th June.
Reviewer: Anita-Marguerite Butler