Thumbelina's Great BIG Adventure
Valentina Ceschi, Thomas Eccleshare, Rew Lowe, Tom Penn
Dancing Brick
The Brewery Arts Centre
–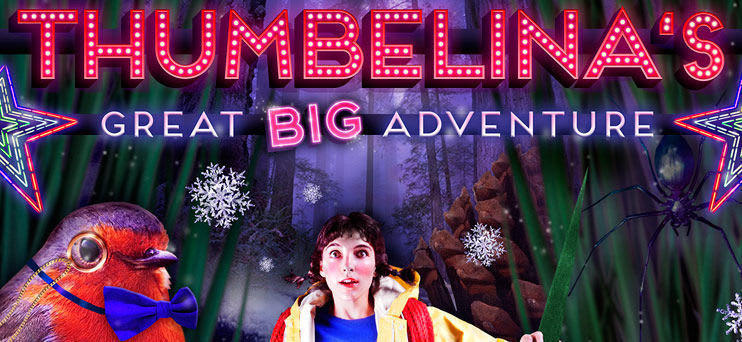 What a delightful production is Thumbelina, presented with great enthusiasm by Dancing Brick for The Brewery Arts Centre. The 10AM performance was packed with excited children for this bright and cheerful show.
Thumbelina is brought up by her Granny and yearns for adventure. Granny is fearful of 'the outside' and makes sure tiny Thumbelina is safe on her table in the house. According to Granny "Out there is dangerous, everything is dangerous".
Thumbelina yearns for adventure, eventually gets out of the house and falls into the garden where she meets some very eccentric people. A biker stag beetle is the first amazing—and amazed—person and, when she is trapped on a lily pad in the pond, she also sees a wisecracking barbershop trio of fish.
The fish and a butterfly help Thumbelina escape from the lily pad, but that is just the first of many big adventures.
Thumbelina can't find her way back home and, after meeting a snail and a slug, she catches a riverboat—in the wrong direction! The boat is heading to The Burrow where, on disembarking, Thumbelina finds herself at the stage door of The Molehill, a vaudeville theatre, run by the dangerous Mole. Thumbelina is top of the bill but Mole wants more—marriage! Thumbelina refuses him and is imprisoned.
What will happen to our heroine? Granny is feverishly searching the world for her but can't find Thumbelina anywhere. Thumbelina finds she is not alone in her locked dressing room. She meets Bird, a former star of The Molehill who had also crossed the gangster Mole. Together they hatch a plot and, after more scrapes and chases, Thumbelina escapes. She eventually reaches home and is re-united with Granny.
This is an excellent and fun production for the whole family, plenty of knockabout fun, some amazing animals and great live music, end of pier in style, bright and cheerful, with an enthusiastic and talented cast.
Thumbelina is played by Valentina Ceschi and the rest of the parts are played by Thomas Eccleshare, Graeme Rose and Dylan Townley. There couple of 5PM performances, 20 and 27 December; the rest are matinées.
Reviewer: Denis W McGeary