Tiger Country
Nina Raine
Hampstead Theatre
–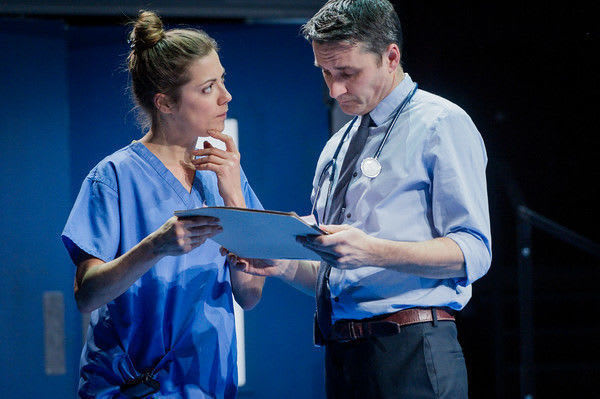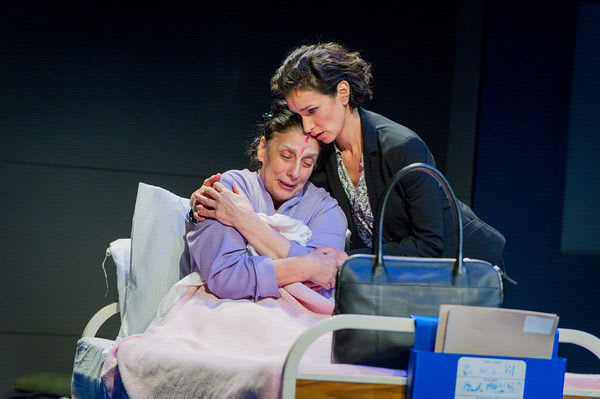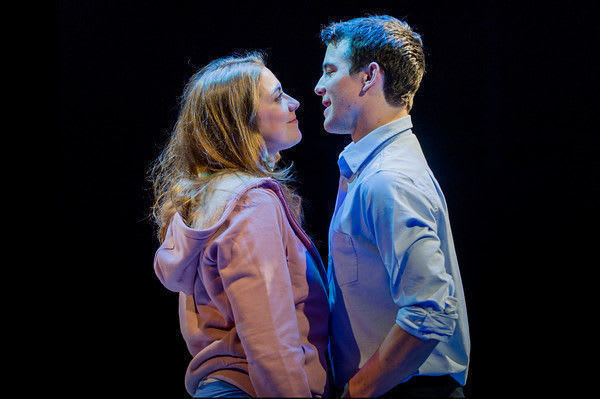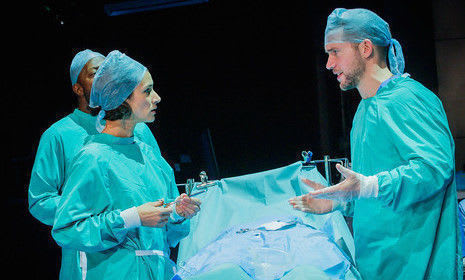 Already seen at Hampstead on a smaller scale in 2011, Nina Raine's fine play about life in A & E here gets a splendid new production directed by the dramatist.
You might think that Holby City and half a century of other hospital soaps made such an enterprise redundant but, close though the parallels may be, this is something different.
This isn't just a work play, though it has all those elements of seeing what actually happens; nor is it a just a set of personal stories, though the lives of several different individuals are threaded through it to give it added human interest. It isn't a political polemic arguing a case for state health care or more funding.
What Raine presents is a carefully researched presentation of the workface, of the pressures and their effect on people: doctors and patients. Although it pitches almost instantly into a testicle removal operation that goes wrong, it is not a drama about people being saved or dying.
Though life and death are always present this is a play about the job: about the pressures, problems and responsibilities that doctors and medical staff must face. "Stick a knife in near an artery, you really know it," one surgeon says. "You're in Tiger Country."
Lizzie Clachan's setting duplicates the Hampstead auditorium in mirror image to create a traverse stage that feels like being in-the-round. There is a sense of being keen observers, like lecture students in somewhere like St Thomas's Old Operating Theatre, but this more a sharing than instruction.
Swing doors speed entrances and exits and from the outset all is rapid action, criss-crossing trajectories of purpose that, when scene moves on to scene, sometimes break into dance. Bed curtains close things off; counters carry phones, files and computers and the space between can be corridor, operating theatre, doctor's rest room or consulting cubicle, the action always making the situation clear.
There is just enough deliberate detail, like how to wash to ensure your hands stay sterile, to make the audience feel insiders, but this has the embracing feeling of a "state of the nation" play like those of David Hare.
Like almost everyone in Britain, it takes it for granted that our NHS is a good thing and shows both how caring it can be and how difficult to get it right. The personality conflicts, the career ambitions, the difficult decisions could be in any hospital but state medicine seems to demand an extra layer of dedication.
Tiger Country is beautifully played by a well-knit ensemble, often doubling, presenting doctors, patients and auxiliaries from Wunmi Mosaku's bolshie nurse to Maxwell Hutcheon's popular patient who's a TV hospital soap actor now diagnosed with cancer.
Jenny Galloway touchingly presents a woman brought it for a fall but frantic about her loss of speech as well as a dedicated theatre sister and wonderfully efficient paramedic; Shaun Parkes is Brian, a laid-back urology consultant, and Soad Faress a frightened Indian patient whose niece is one of the surgeons.
Alastair Mackenzie is a cardiologist facing his own fears, awaiting a personal biopsy result, a picture of a dedicated medic though jaded by experience and a fine performance.
Of these many storylines, most central are those of Vashti, the Indian woman's surgeon niece, and hospital newcomer Emily. Vashti is self-confessedly arrogant, partly in reaction to fighting her way against a male-dominated environment.
She is a bitch with a bite when colleagues don't come up to scratch but a dedicated and caring doctor. Her career is threatened when her junior Mark accuses her of bullying: Nick Hendrix makes him explosively exasperated. Indira Varma delivers a striking characterisation of a forceful, talented woman whose insecurities are not quite hidden.
Emily, first met as an observer when Vashti is in theatre, is an idealistic young woman who has a lot to learn. Ruth Everett gives her a passionate concern but, "you can't be a perfectionist in a hospital" a colleague tells her. We see the effect of long hours and decision making, not least in the contrast between her and her doctor boyfriend James (Luke Thompson), already established on the staff. She gradually adjusts to hospital realities but equally discovers an instinct for gut-directed diagnosis.
It is true that Raine's play includes some of the clichés of hospital drama but it offers so much more than that. This warts and all picture still makes one proud of the NHS, however flawed, and full of admiration of those who serve it well.
Reviewer: Howard Loxton