The Tiger Who Came to Tea
Book, music and lyrics by David Wood, based on the book by Judith Kerr
KW & NB Ltd
Vaudeville Theatre
(2011)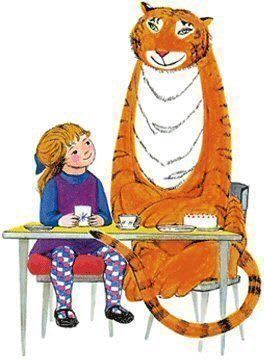 A popular children's book adapted by the man The Times dubbed our "national children's dramatist" sets expectations high and this staging of The Tiger Who Came to Tea does not disappoint. It is aimed at pre- and primary school children and at just under an hour is beautifully matched to what they love. With plenty of repetitions to get familiar with, some songs and actions to join in and even a tiny spot of 'he's behind you' type interaction - but it is very definitely a play with music (and a quite delightful dance) and not a panto.
Susie Caulcutt's attractive kitchen set looks like a drawing come to life and matches the original sixties setting, where milkmen still deliver, without it becoming a period piece and she has given us a fantastic Tiger.
If you don't know the book, it is a very simple story of having breakfast and daddy going off to work, then elevenses, lunch and tea time and then daddy coming home and, since they've had a teatime visitor who ate them out of house and home, taking mummy and their daughter Sophie out to dinner in a café..
It is beautifully cast with Abbey Norman making a lively Sophie who seems like a real little girl, Jenanne Redman's Mummy and Alan Atkins's rather goofy Daddy, who is delightfully dysfunctional. He is always in a panic to leave for work, trying to put his shoes in the toaster and grabbing a tea cosy instead of his hat. Where would he be with out Sophie's support and mum's efficiency?
You'd think girls were brighter than boys from the blokes in this show - friendly postmen and a nutty milkman, but Mr Tiger (like the others played by Atkins) is an elegant, sophisticated charmer with beautifully finished gentlemanly gestures and quite a mover. The little lad next to me could hardly see over the seat in front of him but Emma Clayton's clever choreography didn't faze him; he was beat for beat with Tiger. It can't be easy doing legerdemain with tiger paws but that doesn't stop Atkins from some nifty magic, making sandwiches, buns and cakes all disappear from their plates as he is supposed to wolf them down, or produce a bright bunch of flowers to present to Mummy. If other people ate the amount that Mummy lays out for tea for just herself and Sophie, it is no wonder so many people today are overweight!
Wood, who directs as well as writing the show, has done an excellent job. There are cumulative rhymes and repetitive actions to latch on to and a chance to count but this is fun not education, packed with joyful laughter and not a little amazement and it is also framed in such a way as easily to introduce first timers to the theatre. My only quibble is with an introduction with the cast coming through the pass door and engaging with members of the audience. For those not near them (and who probably can's see them because they are not lit and hidden by others in the audience) it goes on far too long, especially when followed by another big "Hello" introduction from the stage. Children's shows, and this performance was no exception, often have delayed starts, especially when they have to wait for school parties to arrive, and if you have been waiting for things to begin a stretched out opening can be irritating. I am glad to say that the fifty minutes that followed made it worth the wait.
"The Tiger Who Came to Tea" is playing mornings Tuesday-Sunday at the Vaudeville Theatre until 4th September 2011
Reviewer: Howard Loxton