Timber

Cirque Alfonse
Queen Elizabeth Hall
–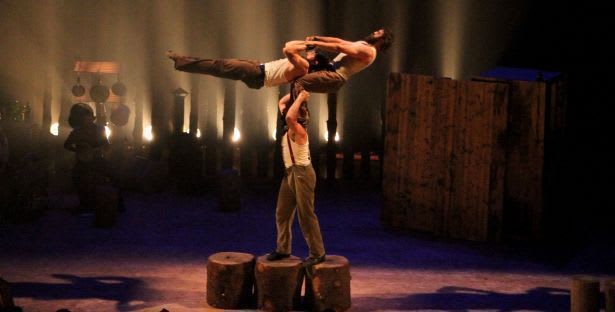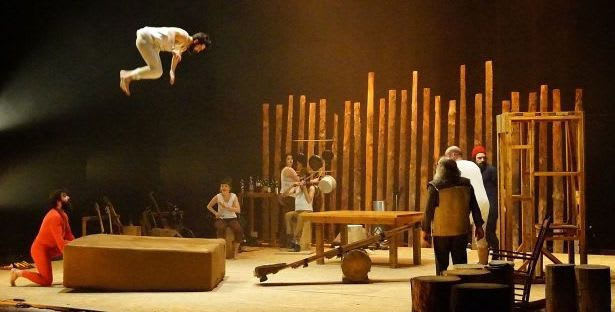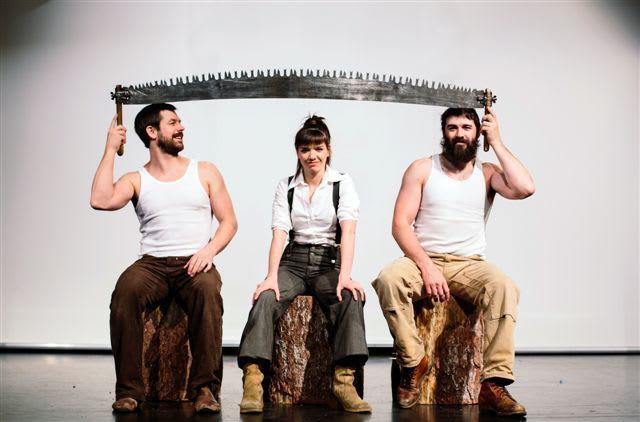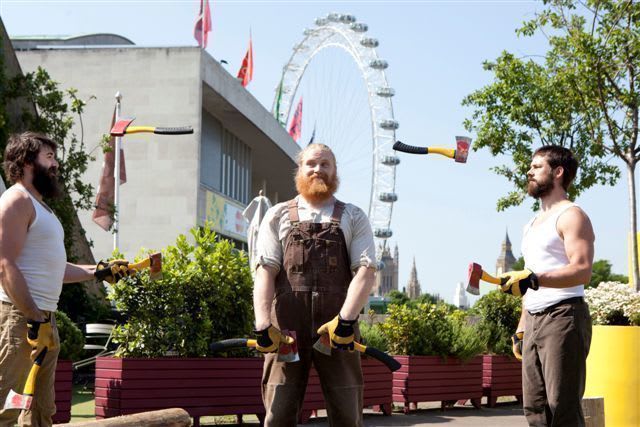 This small Canadian circus troupe from Sainte-Alphonse-Rodriguez in the province of Quebec is a family affair.
It was started by acrobat Antoine Carabinier-Lépine and his dancer sister Julie as a 60th birthday thank you to their father Alain Carabinier for the years when he used to drive them 100km to Montreal so that they could attend circus and dance school. Alain himself had always had a hankering to perform and in 2005 they formed Cirque Alfonse with friends and made him part of it.
All circus performers who do difficult and daring things together have to trust and rely on their fellow artistes, but the closeness that this group has is strongly evident in their work together and is an essential part of the warm and friendly atmosphere that they create with their audience.
For Timber, Cirque Alfonse takes its theme from the backwoods of Quebec, the life, the lumberjacks, their songs, even the animals of the forests. Their instruments are banjo, guitars and violin, sometimes supplemented by a percussion of boxes, bottles and pots and pans, their props the logs and branches of the forest and the lumberjack's tools, huge two-handled saws that they swish dangerously around or turn into hoops to jump, dive and tumble through, and axes they throw and juggle.
These men perform prodigious feats of balance and strength; the accuracy with which they throw or duck and dive is amazing but it is wrapped up in a zany, relaxed presentation with some very questioning glances that sometimes makes you wonder if they know what they are doing. That's all part of their fine showmanship which not only amazes but generates joy.
Matias Salmenaho from Finland, who trained in Russia, is a relative newcomer as the strongman balancing Antoine and his brother-in-law Jonathan above his head, all leaping and somersaulting with perfect timing. Whip-cracking songstress Julie takes to the air with her husband and even Alain soars out overhead in this madcap folksy fun fest.
The musicians David Simard, Andre Gagne and Josianne Laporte also get caught up in the action with Josianne throwing axes and third generation Arthur Casaubon, aged two, makes an appearance balancing beautifully, held high by his father.
From the vegetable chopping and slicing potatoes in mid-air with which the family prepares a meal (and demonstrates how sharp their props are) to the moment when Nicolas Descôteaux's set provides the final stunt, the show has a living structure under the direction of Alain Fancoeur.
Timber marks Cirque Alfonse's debut in Britain. It certainly won't be the last for they really are a summer treat.
Reviewer: Howard Loxton