Time of My Life
Alan Aykbourn
Stephen Joseph Theatre, Scarborough in association with Guildford's Yvonne Arnaud Theatre
Yvonne Arnaud Theatre, Guildford
–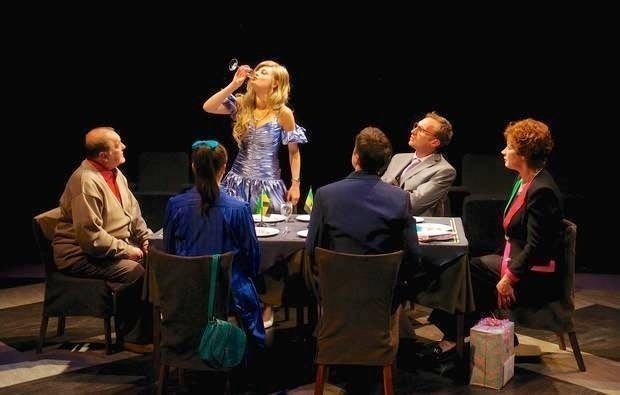 It was J B Priestley who first inspired Ayckbourn's interest in the possibilities of stage 'time', so anyone finding this play a little confusing will know who to blame, but it really just needs a little extra concentration from the audience, which is never a bad thing.
The story centres around a birthday dinner with the family gathered in their favourite restaurant to celebrate and, as is the way with families, they are all talking at once. I did wonder if this was also scripted as the loud and animated conversations trip over each other. However it soon settles down, giving a chance to find out more about the characters.
This was Ayckbourn's first 'northern' play and he makes full use of their blunt outspokenness, most obvious in the matriarch, birthday girl Laura, who gives her opinion straight out. She adores her younger son Adam (James Powell), but despairs of his ever finding the right girl and is not happy with Maureen, his latest, who is meeting the family for the first time. It does nothing to change her opinion when the nervous girl drinks too much and has to dash to the gents (yes, she even mistakes the door) to throw up.
Shiftless Adam can never settle down to a job and at present is editing his own arts magazine. "Just single sheet?" asks his father deprecatingly.
Elder son Glyn (Richard Stacey) tries hard to please his mother but she has never quite taken to him, or to his wife Stephanie (Emily Pithon). The conversation is amusing, but just when you are beginning to think it is going on too long there is a crash of thunder and time begins switching crazily either forwards or backwards, giving an idea of what led up to the dinner and what took place later.
The action also keeps switching back to the restaurant where, with the younger members departed, Gerry and Laura are indulging in a few more drinks. Tongues are loosened and secrets are secrets no longer.
The celebration takes place at the time when it seems they are at their happiest (except maybe for the hapless Maureen). Glyn promises to be faithful to his wife who is pregnant again, Adam loves Maureen, despite his mother's opinion, and Laura is reasonably satisfied with her station in life. There are warning signs though, especially when husband Gerry mentions the recession and business worries.
The scene is set for shocking revelations and catastrophic events.
Performances across the board are superb, and especially difficult for Sara Parks's Laura and Russell Dixon's Gerry when having to sit motionless during the time switches. Rachel Caffrey too deserves a mention as Maureen, a girl from an obviously dysfunctional family trying hard to make the best of herself.
The scenes take place in various restaurants. Ben Porter does a sterling job with the comic aspect (a little overdone at the beginning in my opinion), as numerous waiters of indeterminate origin and vastly different ages, and with some very strange accents.
First performed in 1992, it seems that not a lot has changed. Family and relationships are always tricky, but fascinating. People are still spending beyond their means, and recession is still a word to fear.
Aykbourn directs with precision and inspiration. I found the play totally absorbing and fascinating and often surprising, especially the blossoming of Stephanie.
Reviewer: Sheila Connor