Time for the Good Looking Boy
Michael Wicherek
Box Clever Theatre Company
Unicorn Theatre
(2009)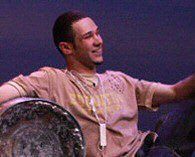 A model of a house hangs above Rhys Jarman's set and a house silhouette, cut as a space in the backing and from a rostrum on the floor to form a sort of pool and as one of the projected images the designer uses, establish this as a very domestic play that could be about any young person from an ordinary home. Simple, richly coloured and warmly lit by Tai Erdai it gives a focus and an intimacy that help actor Lloyd Thomas to both command and communicate with the audience as a teenager who tells this story.
In an accomplished piece of solo acting, he holds the stage for more than an hour, always maintaining the audience's interest. Sometimes he tactfully engages in direct conversation with an individual, as when he asks a teenager, whose eyes remind him of his girlfriend Sammy, to stand in for her and shout at him as he describes an argument
Using the rhythms and gestures of rap, often backed by composer Jon Nicholls's score, he tells us about the love between him and this girl who thought him 'not bad-looking,' of her concern about what will happen when she goes off to university. He talks about the way his father left him and his mother when he was a little boy. He describes his hurt refusal to respond to a dad he really loved when he came home to patch things up, realising only much later that his Jamaican mother would have taken her husband back if it were not for his behaviour.
The script and director Iqbal Khan's production give it a variety of pace to match the way the boy moves from one aspect of life to another, through memories and emotions that will be particularly close to the young audience it is aimed at but shared by all. When romantic idyll turns into tragedy the audience finds it knows more than he does to give the plot an added poignancy. The publicity calls this 'an urban ghost story' but it is not about spookiness; it is about understanding life.
At Unicorn Theatre until 21st November, then 23rd-24th November, The Egg, Theatre Royal Bath; 25th-26th November, York Theatre Royal; 1st-2nd December, The Dukes, Lancaster
Reviewer: Howard Loxton