Tim and Light
Original story by Hal Chambers, developed by James Marlowe, Hal Chambers and Tucked In
Tucked In Productions
Lyric Theatre Hammersmith
(2011)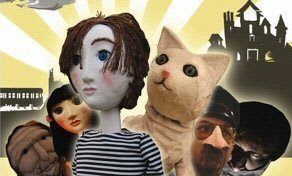 Tim is just coming into his teens and lives in Brighton .He probably likes to think he's very grown up but he knows he's not and when he takes the train to visit his grandmother at nearby Preston Park and the train doesn't stop but goes rushing on past station after station it gets a bit frightening and turns into an adventure. But Tim isn't on his own: there's Light who's gone along as well. She's a cat, with white (or is it silver?) fur and bright blue eyes whom he found one day. He drew her picture on a poster and put it up all around the neighbourhood but no one claimed her as their lost pet so his mother let him keep her. He'd like to be a friend of Laura Seymour, she's the most popular girl in school, but he's never actually spoken to her, but for now Light is really his only friend - and a very good one, he tells her everything..
Tim may be a growing lad but this is really a story for younger children and everyone older who believes in magic of the old fashioned fairytale kind. Real teenagers might consider themselves far too grown up to admit enjoying it, but real grown ups will probably love it. It is presented with a mixture of live performers, puppets and shadow work, the story introduced by Grandma, a full grown Russian Babushka puppet. Tim lies to his mother about where he's been but it is otherwise a very moral tale about what friendship means, at about an hour a fraction too long for the very little ones but fine for about four and up.
It is well and enthusiastically performed by actor/puppeteers James Marlowe, Sarah-Jayne Butler, Robin Hemmings, William Donaldson, and Rosalind Steele, smoothly blending live action, marionette and shadow work, often lit only by torches which give it an extra edge of danger and excitement. As director, Hal Chambers keeps things briskly moving - sometimes just a little too briskly when the tension might be stronger if the action concentrated on one position and got bold characterisations from his cast.
In the dim light we can't see much of Lorna Killin's imaginative design which suggests a littered attic but gives as a garden of topiary animals as well as a nightmare house which seems to house a monster as well as a magician and a lovely lady. It makes skilful use of a chest of drawers, which provides a raised stage for the puppets, that can become bedroom or seashore (Tim is a dab hand at skimming stones across the water). Its drawers pull out to form four platforms for the start of Tim's railway journeys - a nice use of the repetition that youngsters recognize and love - as well as trains and all sorts of things and inside turns into a prison of glowing eyes, enchanted animals who turn out not to be animals at all. Beatrice Pentney designed the puppets and the cat Light is particularly delightful.
I was intrigued that with the sound of its puffing and chuffing, its whistle and churning pistons the train was clearly a steam locomotive though all the cast, let alone the children in the audience, must have been borne long after our railways switched to diesel and electric. In 'fairy' stories it seems trains are still puffers, just as grannies have full length skirts - or is this all because of familiarity with that train to Hogwarts?
Run at Lyric Theatre ended but touring in summer 2011
Reviewer: Howard Loxton