Timon of Athens
William Shakespeare
Royal Shakespeare Company
Swan Theatre, Stratford-upon-Avon
–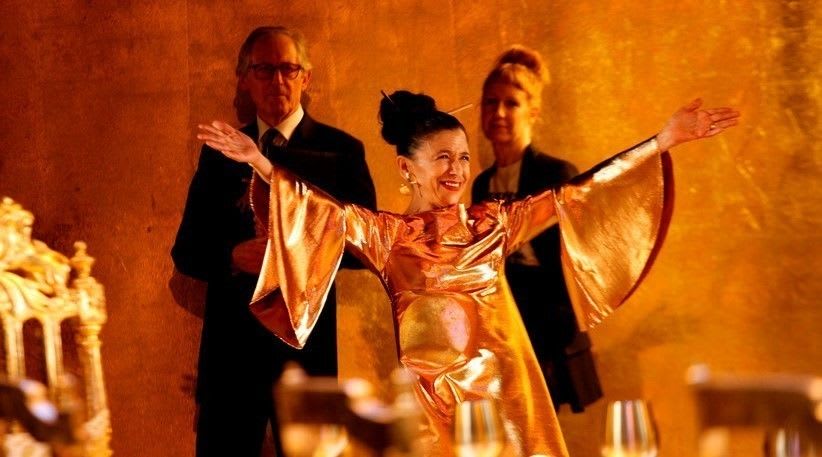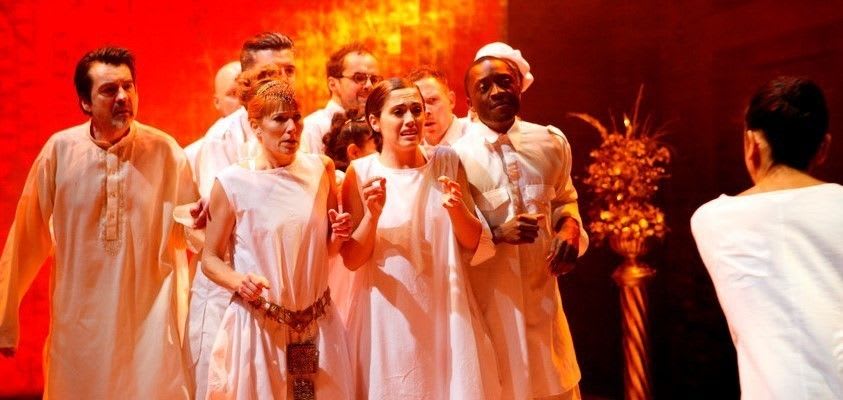 A precious carpet flows like a river of gold down the wall and across the floor. The banqueting table and chairs are of gold, the plates and chandeliers are gold, the guests are dressed in gold, even the floral display is gold.
All that is lacking is a golden money-tree, var. Europeiensis. For director Simon Godwin has placed Shakespeare's black morality tale of extravagance, venality and hypocrisy back in Greece but in modern times, between the years of EU plenty and those when the creditors came to call.
Timon, a man—or here a woman—with infinitely more money than sense, splashes out gifts on friends who desert her when the going gets tough. When, having lost all, she rediscovers a fortune, she bestows only curses.
It is this second half of the play, which still seems as experimental as something written by Samuel Beckett, that normally gives trouble, but here was the more successful, thanks to the more convincing performance of Kathryn Hunter.
Hunter, tiny, wiry, was quite the fiery figure who though reduced in circumstances was quite capable of telling her enemies that they could, literally, go hang themselves.
It was in the first half, however, that I had serious reservations. Hunter was born of Greek parents, so may feel that those expansive gestures with arms, hands, fingers constantly circling or pointing to the gods come naturally to the part. Technically she is brilliant, as if giving an acting masterclass. Yet the style seems antiquated, as if the spirit of Donald Wolfit had been concentrated into that smaller body, and the result at times is like watching a runaway combine-harvester.
Many of the other principal roles are also transferred to women, with Debbie Korley a forceful Alcibiades—her gang of revolutionaries in topical gilet jaunes—and Nia Gwynne as the mordant Apemantus, with whose insults Timon finds a gloomy kinship.
The supporting cast are first class with Imogen Slaughter, David Sturzaker, James Clyde and Sam Pay as Timon's gold-plated, steel-hearted 'friends', Patrick Drury as her rational John-Major-like steward, and a fine trio of servants in Rosy McEwen, Salman Akhtar and Riad Richie.
Bouzouki music lightens proceedings, although even while it plays, and gold falls from above like autumn leaves, a couple of wolves circle the diners. Sic transit gloria.
Reviewer: Colin Davison