Tinderella: Cinders Slips it In
Jon Bradfield & Martin Hooper
Above the Stag Theatre
–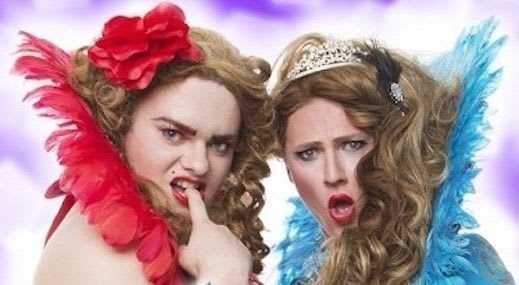 In the East European kingdom of Slutvia, Prince Charming is famed for his balls: when they are swinging, everyone has fun, despite the state being homophobic. He is coming up to eighteen. "Time," says his father, King Ludwig, "for you to get married." So it is ball time again as a way to review the available talent.
Orphan Cinders may come from an aristo family but his dad ran out of money and now he leads the life of a skivvy. He may dream of princes but lives at the beck and call of his stepsisters and their mother Lady Volga.
Maud Escort and Nicole Ferrari (they're the girls: did they have different fathers?) aren't really awful or very ugly, its their mother (boo!) who's the baddie. When Buttons brings round their ball invitations it is she who tears up the one inviting Cinders.
But (you noticed the title?) it so happens both Charming and Cinders have an app on their iPhones that's a Slut version of Tinder. Who could that body belong to that Cinders has just downloaded?
This is a panto that sticks to the story with Rebecca Travers's Fairy's wand-waving magic providing a ball dress and a coach by her magic (the pumpkin won't work but that's not all that's available in the cupboard). Then there's the twelve o'clock curfew and Cinders's shining slipper left behind him.
Although Above the Stag programmes shows for an LGBT audience, you don't have to be gay to appreciate its usual offerings. Past pantos have demanded a degree of gay indulgence, relying a lot of their outrageousness to get laughs. This year, however, I felt director Andrew Beckett pitched a notch higher, its humour genuinely funny to straight or gay, though be prepared for graphic references to erotic practices. This show is definitely adults only at every performance.
Louie Westwood is a delightful Maud, partnered by Christopher James Barley's Nicole. They are a hilarious drag double act; you can't help but like them. Ellen Butler makes Countess Volga eminently boo-able and Andrew Truluck's rather bumbling King is too easy going to stick to is bigotry.
Lucas Meredith is a lively Buttons. He's too nice to get left out of the pairings—but then he always does, though the Fairy sorts things out for a mouse with a size problem as part of the otherwise happy ending.
As the boys, Joseph Lycett-Barnes and Grant Cartwright are both making their professional debuts. Lycett-Barnes makes Charming a bit of a brat with an arrogant confidence—it isn't surprising that he gets his own way with his father—while Cartright's wide-eyed Cinders is a guilless, innocent twink for whom you hope Buttons will go on looking out.
The music, by Jon Bradfield and arranged by Daniel Johnson, is under Aaron Clinghams's direction. Choreography (not enough of it) is by Aaron Jenson and designer David Shields does his usual wonders with set and costumes. The audience supplies plenty of experienced "He's behind you" participation.
Reviewer: Howard Loxton