The Tin Horizon
Orlando Wells
Bird and Be
Theatre503
(2009)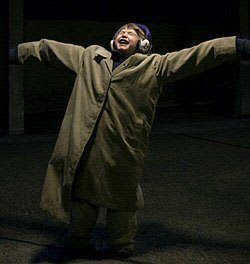 The production notes say that The Tin Horizon "is both a love story about a couple faced with a terrible choice, and a dark comedy about where we might be heading, and why we don't want to go there." Therein lies its downfall.
An unfortunate downfall, as Bird & Be's production has a great deal going for it. Ultimately, however, playwright Orlando Wells would have been better off writing two plays: one about the love story of Meteora and Vladimir, and the horrific choices they go through; another about a sinister nanny-state in which freedom of movement is extremely limited and 'undesirables' are vanished at birth.
As it is, we have a mishmash of both plays in The Tin Horizon, and, despite powerful performances from a talented cast, the play never quite decides where its heart lies.
We're somewhere in the future where people refer to each other, rather irritatingly and for no apparent reason, as thou or thee; eyes are called goggles, coffins are body-boxes and there is a place cryptically called The Empty Quarter which everyone refers to in hushed whispers. In a dingy old taxidermy studio (delicately designed by Anna Bliss-Scully), hunch-backed and wild-eyed Vermin (an affecting Tom Morrison) spins and twirls romantically with a sweeping brush, to robust classical music. His boss, Vladimir (Nick Malinowski) strides in. Vermin has been in here for many years, and is yearning to see the outside world. Instead, he has lived in the fantasy world of movies and stories, with Grace Kelly as a particular icon.
A fabulously sharp and shrill Shadie Shimmin explodes onstage, followed by a bumbling Tim Barrow: two representatives from the powers that be, interrogating Vladimir and reminding him of a previous lover Meteora. Through a series of flashabacks and catch-ups we meet Meteora and the man who stole her from Vladimir, Ziad (Mark A. Brighton); a beautiful Nathan Stewart-Jarrett as Saul, a man who believes God is speaking to him and convinces the nation of his own Godly status; the shady Lucien (Laurence Kennedy) who strolls around in a razor-sharp suit looking very pleased with himself as he brings misery to everyone who comes into contact with him; and the hilarious thug Walt (Gary Shelford in a scene-stealing role). A complex series of events leads to a familial revelation between Vladimir and Meteora before a dramatic and depressing ending, handled well by director Phoebe Barran.
Whilst Wells' writing is at times sharp, witty and poignant, at others it feels laboured and over-complex. As an exploration of the corporate world in which we live, where minorities are thrown to aside, it doesn't say anything new about an age-old topic - Sarah Kane's Cleansed went right to the heart of humanity's brutality, dramatising the shocking world truths about governmental torture and hoodwinking of society, like no other playwright. Where Wells succeeds is in creating a touching portrayal of the breakdown of a relationship and the life-altering decisions we are sometimes forced to make.
Tanya Franks' Meteora is a powerful portrayal of a woman betrayed by her man, by her country and by her life. She moves from a soft and sweet idealist to a hardened, bitter woman in a flash, beautifully shrieking in stillness as her world is torn apart.
This is the heart of Wells' play - it's a shame it wasn't allowed more room to beat louder.
Running to 9 May 2009
Reviewer: Terry O'Donovan