Hamlet
William Shakespeare, abridged by Dov Weinstein
Tiny Ninja Theater
The egg, Theatre Royal, Bath
(2010)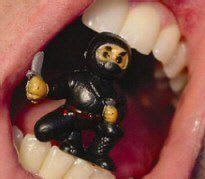 It's not always enough, nowadays, to revive a classic. The modern director needs to find an angle if he or she is to make their mark. An all-male cast, or a juicy twenty-first century political crisis within which to set the piece usually goes down well. But how to be truly inventive is a perennial problem.
In 1999 New York theatre director Dov Weinstein was facing exactly this dilemma when he was struck by something momentous. He realised that all over New York there were a wealth of tiny plastic vending machine toys - ninjas, transformers, dinosaurs and the like - that were pitifully overlooked when it came to castings for classical actors.
Weinstein's Tiny Ninja Theater Company is now ten years old, and with more than 100 tiny 'actors', the company has played to critical acclaim at New York and Edinburgh Fringe Festivals. This week he brings his inimitable account of both Hamlet and Romeo and Juliet to the egg's Shakespeare Unplugged Festival.
Needless to say it's a bizarre experience. Hamlet is played by a static plastic ninja toy, clad in black with impressive eyebrows. The ghost of his father bears a close familial resemblance and appears from between the clenched jaws of the director, thrown up on the screens above the stage in horrible close-up. Claudius is a yellow smiley-faced man, reclining with legs crossed and looking, for all that, actually quite regal. Particular favourites are Polonius, a yellow ninja and a high-pitched, whining New Yorker, entirely reminiscent of Woody Allen, and his equally idiosyncratic son Laertes, who has the added allure of a lovely lisp.
Weinstein himself works terribly hard on stage, leaping around and contorting himself as he manipulates a full cast of tiny plastic actors. But that's not all: he also works a pinhole camera, in order that the miniature scenes can be played out on the two large screens above the stage. And of course he takes on the part of every character himself in this 55 minute, breakneck abridged version of Shakespeare's most tragic hero.
The result is certainly entertaining for any audience members already familiar with the play: how can you not giggle when Weinstein, as always delivering the lines of the scene entirely straight, chucks a yellow smiley-faced Gertrude into a plastic beaker of 'poisoned' Ribena in the closing scenes? This may be a one-joke play, but it is staged with sufficient creativity to sustain the joke well.
For the younger audience members, however, enticed by the egg festival's promise of accessible Shakespeare, this may not be the best first introduction to Hamlet. Although Weinstein has done a good job with this abridged version, the text is remarkably true to the original and the pace of the piece doesn't make it any easier for a novice. As my 11 year old companions commented afterwards, "You're so busy watching the ninjas, you forget to concentrate on what's going on"
Runs at the egg, Bath until 10th March
Reviewer: Allison Vale