'Tis Pity She's a Whore
John Ford
Mooted Theatre Company
Friargate Theatre, York
(2008)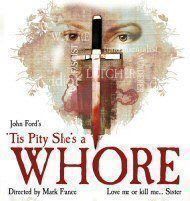 With all the traditional ingredients of a bloody Jacobean revenge tragedy John Ford went one better and centred his controversial play around the incestuous relationship of brother and sister, Giovanni and Annabella. Once shunned from the stage for long periods due to its shocking content, today the play features on the A-level syllabus and is recognised for its thought provoking reflection on a forbidden love. In Friargate's black box theatre, the Mooted Theatre Company set out to tell a tale of unfolding destruction among designer Cath Doman's orange screens.
With strong parallels to Shakespeare's Romeo and Juliet, Ford presents Giovanni (Andy Curry) and Annabella (Gemma Sharp) as essentially virtuous individuals who, overcome by their tumultuous passion and encouraged by Annabella's tutoress, Putana (Victoria Morris), embark on their disastrous course. Ignoring the protestations and strong council of the Friar (Bill Laughey), the two consummate their love only to result in Annabella's pregnancy. Meanwhile suitors crowd her door, from the ridiculous Bergetto (Howard Spencer-Mosley) to the brooding Grimaldi (Neil Tattersall) and the eventually successful Soranzo (Christopher Ratcliff). Meanwhile Soranzo's former lover, Hippolita (Gemma Head), plans revenge after she is scorned and sets out to seduce Vasques (Toby Gordon), Soranzo's servant, and enlist his help against his master.
One of the reasons this play remains a difficult piece to stage (to say nothing of the skewered heart, eye-gouging, multiple murders and incest) is the fine line a director must tread between comedy and tragedy. The role of Bergetto offers comic relief to the impending doom and Spencer-Mosley adlibs and clowns his way through the part. Director Mark France also re-casts Bergetto's servant Poggio as the female Poggia (Sara Marie Bradley). Bradley and Spencer-Mosley's comic duo becomes a story of the unexplained maid's love for a buffoon. Adding time to an already lengthy play meant the piece came in at well over three hours (including interval) and eventually worked to undermine the tragedy when the audience had been primed for comedy by actors working too hard for laughs.
Director Mark France himself makes his stage debut, taking the role of Richardetto (Hippolita's husband) complete with comedy Yorkshire accent and pronounced stoop, as his disguise from the company who would otherwise know him as a nobleman. Keeping the play in the period, Doman's seventeenth century sumptuous costumes also add to the heavily masked nature that this production delivers, with dark deceits that lurk underneath such gilded finery. However the set did cause problems in this venue as it pushed forward an already limited stage space, leaving all the more intimate scenes, played lower down, utterly invisible to all but the front row.
While Curry and Sharp present sympathetic portrayals of the lovers and work hard to highlight the playwright's intent to show the two as more than just morally corrupt, this is a production that gets somewhat derailed by the comedic performances. Ultimately this brings the piece to an extremely difficult conclusion, which, with a brother presenting his sister's recently killed and skewered heart to a birthday party full of celebrators and then beginning a trail of deaths that easily rivals Tarantino, the play can all too easily descend into farce. Whilst the company performed some energetic fight scenes in what was a cramped stage space for a large company, some of the contrived sequences (such as an overworked steam bath scene literally showing too much cheek) hijack the true tragedy and revenge of the piece. We leave comically entertained but not emotionally affected.
Reviewer: Cecily Boys