Titania McGrath: Mxnifesto

Phil McIntyre Entertainments Ltd Presents
Pleasance Courtyard
–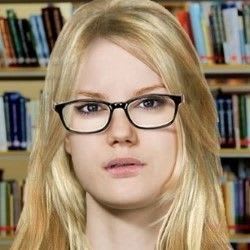 How far can you take a joke before it runs out of steam? Judging by Titania McGrath: Mxnifesto, it's about 35 minutes out of an hour-long slot.
Titania McGrath, as performed onstage by Alice Marshall, is the brainchild of Andrew Doyle, playwright and comedian and co-writer of the Jonathan Pie stage performances. The character began as a Twitter account, satirising the accounts of radical feminists and activists who fell under the semi-reclaimed pejorative label of SJW, or Social Justice Warrior. Her opinions were so 'woke', but just believable, that the account more often than not was mistaken for being genuine rather than parody.
While Doyle has managed to maintain the account's consistent level of mirth, as well as publish a bestselling book under her name, this theatrical version feels like a half-baked version. Certainly there are some belly laughs here, and Marshall does her damnedest to sell the role, commanding the stage admirably, particularly through the moments of mime and some wonderfully wretchedly slam poetry. But when it comes to the line to line comedy, at least one gag in three fails to hit the mark in the way it ought.
The show itself is presented in the form of a TED Talk, where McGrath can rail about her feelings about various "isms" while trying to entice the audience into her own political feelings, and party. And amidst the jokes, and hilariously bad photoshopped images of her, there are the briefest of flashes of what more could have been done with the character. But the material never rises to step beyond the minimum you'd expect from the premise.
Part of the problem could be that the mystique and success of the written word relies upon that one step of removal from reality. While in the flesh, it becomes increasingly clear that the shallow nature of the character means that once you get the gist of the joke, it only remains for the line to be pushed or stepped over, and while the show does deliver... it's an occasional giggle, but certainly a hit and miss affair.
Reviewer: Graeme Strachan