Titanic The Musical
Maury Yeston and Peter Stone
Danielle Tarento, Steven M Levy and Vaughan Williams for Capital Musicals Ltd in Association with Mayflower Theatre, Southampton
The Lyric, Theatre Royal Plymouth
–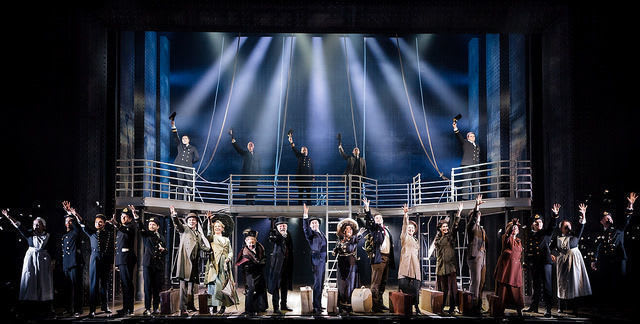 A titanic feat, well executed and surprisingly buoyant for the depiction of such a tragic event—director Thom Sunderland steers the multiple award-winning Titanic The Musical through potentially choppy waters with a firm hand on the tiller.
Maury Yeston and Peter Stone's creation is indeed "at once magnificent and impossible" (as the ship's architect describes his unsinkable construction) seizing on one of the least likely premises for a musical extravaganza and carefully avoiding the depths of pathos and tides of disaster.
The Broadway and West End acclaimed show boasts an undeniably talented 25-plus strong cast which, with many quick changes and doubling up, populates the ship with class-conscious passengers, slick stewards, hard-working crew and more.
Weaving some 10 stories through the first half, using names of actual people aboard the ship, investment in the varying outcomes suffered by those aboard is established but creates a busy and lengthy first act.
Niall Sheehy (whose mellow tones are a delight) is cheeky chappie stoker Fred, lovelorn and ready to get hitched on his return; Lady Caroline (Claire Marlowe) is running away to marry beneath her station and feisty Kate (Emma Harrold) needs a new start—and a new man.
Brash social climber Alice Beane (a somewhat raucous Claire Machin) is desperate to drink champers with the first class guests while elderly Mr and Mrs Straus (Dudley Rogers and Judith Street) gently celebrate a long life of love for each other.
There's a shy radio operator only really able to communicate through dots and dashes, 14-year-old bellboys, slick stewards, babies, maids and officers ready to take the blame for fatal decisions made on a cold moonless night in 1912. And a White Star Line owner urging more speed and ignoring warnings from a weary captain and the ship's designer who, all too late, realises that the compartment walls should have been somewhat higher.
Themes of a changing social structure, entrenched class system, marvels of engineering, progress and a brave new world steaming ahead are explored and David Woodhead's set—all rivetted metalwork, shiny railings and wheeled steps—allows gracious upper crust dining, frantic melees and intense interplays with the addition of just a few props. But surely the tilting stern, if used at all, should remain at an angle thereafter.
Mark Aspinall waves a strict baton as the unseen (shame) six-person band breathes life into Yeston's mainly uninspiring but functional score but with a beautifully sung—particularly by Joel Parnis—"No Moon" chilling as we anticipate the inevitable.
Mixed feelings—not least as two family members were lost in the sinking—but admirable staging, some talented performances, a number of stand-out voices: a sensitively handled, entertainingly informative piece.
Reviewer: Karen Bussell