To Have Done With the Judgement of God
Antonin Artaud
Fear No Colours
C too
–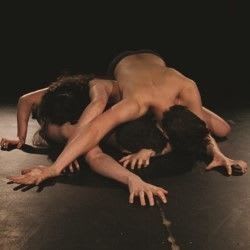 It's always a feat to create a piece of art from two distinctly different media. Particularly in this case, as creating physical theatre from a radio play is one difficulty, made all the more complex when the original piece is a fractal, and at times nonsensical surrealist rant.
In taking Antonin Artaud's final piece of completed work, the radio play To Have Done With The Judgement of God, and rendering it in a barrage of ferocious movement, dischordant sounds and rhythmic voices, Fear No Colours has managed to make some sense of the cautionary polemic.
Set on an almost barren black stage, shrouded in darkness, a pair of female figures embrace and speak about an American government sanctioned collection of young boy's semen to breed an in vitro army, followed by a host of almost naked males bursting from a cocoon, being slowly taught to dress and act in rudimentary fashion. And on and on with increasing violence and movement until the close of the performance.
It's a bold and striking performance, although one that doesn't lend itself to immediate comprehension and as such will probably go straight over the head of some Fringe audience members. Furthermore, sometimes the voices are lost in the miasma of movement and crashing roars of background music and ambience which accompany the piece in the very spirit of Artaud's theatre de cruauté. A pity, as the physical work is highly accomplished, and this is the only real downside to the performance.
Reviewer: Graeme Strachan