To Have to Shoot Irishmen
Lizzie Nunnery
Almanac Arts and Claire Bigley
Liverpool Everyman
–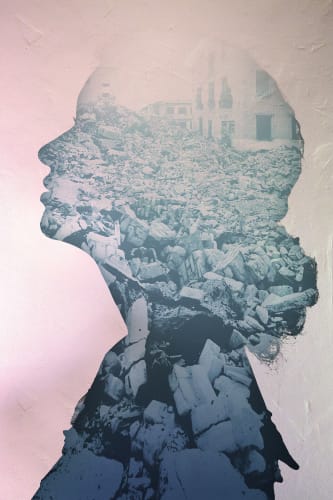 The story of Francis (Frank) Sheehy Skeffington and his wife, Hanna, campaigners for both Irish independence and women's suffrage, is a remarkable and tragic one. Unjustly arrested and summarily executed during the Easter uprising of 1916, the enormous irony of Skeffington's fate is that he was a well-known pacifist who, only the day before, had risked his own life to rescue a severely wounded Birtish officer from the steps of the beseiged Dublin post office.
Lizzie Nunnery's new piece, To Have to Shoot Irishmen, features scenes preceding and following Frank's execution. There is tremendous scope for drama in the rich biographies of Frank (the fervent pacifist) and Hanna (who actively supported the violent rebellion of James Connelly and his men). Having set up this key opposition between husband and wife, it's a great pity that Nunnery's script, in its current form, doesn't give the political and emotional complexities time to unfold.
At base, Nunnery's instincts are good. She puts in place two further antagonistic relationships: one between Frank and the young Lieutenant guarding him; the other, (post-mortem) between Hanna and Vane, the senior British officer who brings her a belated and inadequate offer of justice.
An hour and ten minutes (with no interval but plenty of music) is not sufficient to allow these dramatically fertile situations time to grow and ripen. We get plenty of the politics (and politics is indispensable, here) but too little of the humanity (and gross inhumanity) of it all.
This is all the more to be lamented because Nunnery writes some lovely, poetic dialogue. Discovering the body of a child on the street, Hanna speaks of an "owd man looking at me, like I might know what it means." Later, in a moment that combines self-justification with a desperate appeal to his gaoler, Frank argues that, "sometimes, what's needed is a voice in the wilderness."
The songs are good, and the cast harmonise with aplomb, but the music seems to punctuate the drama rather than facilitate or enhance it.
Gerard Kearns's Frank exudes the nervous, frustrated passion of a pacifist living in increasingly violent times. Hanna (Elinor Lawless) has a resolute aspect that holds the attention, although her exchanges with Frank and Vane (the ever-reliable Russell Richardson) cry out for development.
We need to know, admire, perhaps even love this husband and wife in order to feel the full horror of the outrage perpetrated upon them.
Robbie O'Neill strugges manfully to portray William, the boy officer—weary and uncertain—but again the part is underwritten.
Rachael Rooney's design is clear and unfussy—evoking a troubled city, a ransacked household and a sparce and makeshift cell, with impressive economy.
Gemma Kerr's direction emphasises the distance between these four characters; a choice which seems in keeping with the choices of the writer.
Reviewer: Martin Thomasson