To Kill A Mockingbird
Harper Lee
Octagon Theatre Bolton
Octagon Theatre Bolton
–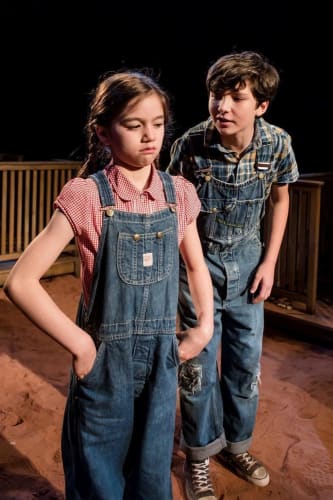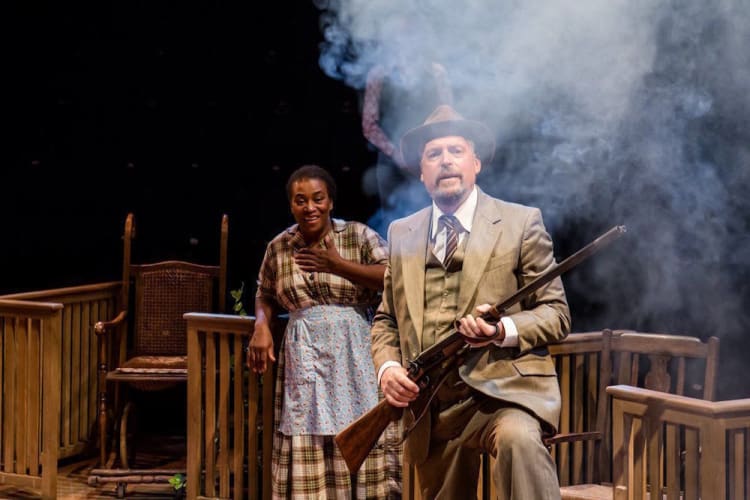 The Octagon has put together a company of 14 adult actors, some of whom are very experienced and acclaimed despite being in small roles, but the real buzz at the interval was about one of the youngest members of the company.
For Christopher Sergel's popular adaptation of one of the greatest and most popular novels of the last century, director Elizabeth Newman has divided the central role of Scout—the childhood nickname of Jean Louise Finch—into two, with children taking the children's roles, usually played by adults, and Barbara Drennan taking the narrator's role as adult Jean Louise looking back on these events.
Scout witnesses her father, lawyer Atticus Finch (Rob Edwards), defending a black man, Tom Robinson (Marc Small), on charges of raping a white woman, Mayella Ewell (Leila Mimmack). Very little of the evidence or testimony stands up to scrutiny and the Ewells are known and despised all over town, but this is Alabama in 1935 so the evidence of a frightened white woman and her abusive father Bob Ewell (Harry Long) carries more weight than a hard-working, apparently honest black family man. More than that, just taking the case brings trouble and abuse to Atticus and his family.
Sergel's adaptation is extremely heavy on narration, especially at the initial set-up when it is rather like having the book read out loud. This is emphasised by having Drennan as just the narrator, a thankless task for any actor.
There are some very good performances in the professional cast. Rob Edwards seems the perfect choice for Atticus, and Marc Small brings the frightened nobility and goodness to Tom that the role needs to contrast with the obnoxious Bob Ewell, very effectively played by Harry Long. There are some nice performances in the smaller roles as well, some of whom barely speak a word, like Trevor Michael Georges as Reverend Sykes and Remmie Milner as Helen Robinson.
However the performance that everyone was talking about was 10-year-old Jasmine De Goede as young Scout (the part is shared across the run with Lucy Doyle Ryder) who gave as complete and natural a performance as any member of the adult cast. Alongside her, Che Tligui (Matthew Howells at some performances) does a pretty decent job of playing her older brother Jem.
Amanda Stoodley's in-the-round design puts a miniature wooden porch at the bottom of each staircase on the red dust floor, which looks rather cluttered and cramped, the opposite of the vast open spaces of the Deep South, but this works well when shuffled around to make the more spacious courtroom scene.
There are some good individual scenes and some good performances, despite a few displays of emotion and intensity that feel more self-indulgent than genuine, but the sluggish pace of the production as a whole doesn't allow those performances to shine as well as they should and, together with the heavy use of narration, makes it feel too long and literary.
However, a few good runs may well put that right and in another week a production that is good in parts may really come together into the powerful piece of drama that it can and should be.
Reviewer: David Chadderton