To the Bone
Isla Cowan
Pitlochry Festival Theatre
Pitlochry Festival Theatre
–

Listing details and ticket info...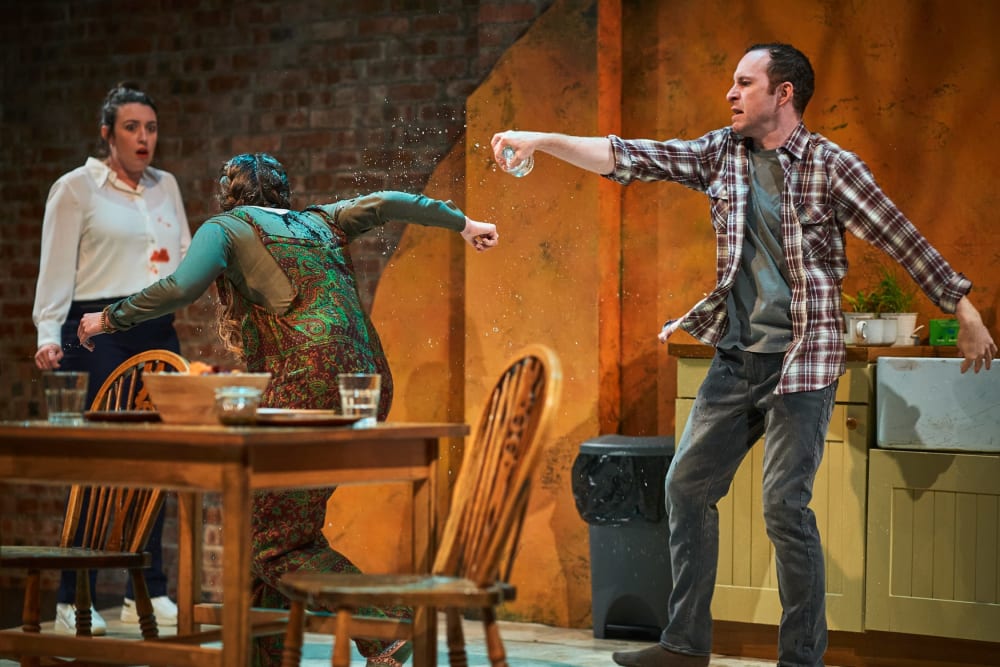 Isla Cowan's short new three-hander, which premières in Pitlochry's impressive new studio theatre, is just under an hour that varies between intense and awkwardly amusing on a sparse but effective set (no set designer is credited) of a Scottish country house.
Beth (Rachael McAllister) turns up to visit Alf (Joseph Tweedale), apparently unexpectedly, hence his hesitant half-sentences and awkward politeness. They are rather a mismatched pair, she a management consultant in Glasgow and he living a simple life, growing most of what he needs and bartering his excess produce with others in the area.
It turns out that they had been in a relationship for eleven years, but she walked out some time ago and hasn't been in touch since, until now. She is surprised by his new lifestyle—he's given up caffeine, no longer works in computer programming (she calls it "computer games", much to his annoyance), has sold the car, rides a bike and doesn't even drink any more—then drops the bombshell that she wants to sell the house they bought together, so he'll have to leave. The real reason, which we find out much later, lies in an event in their past that has an interesting link with the new play that has just opened in the main house: Group Portrait in a Summer Landscape.
His next surprise comes when Vee (Trudy Ward), his 22-year-old girlfriend, comes in, who has apparently been living here, unknown to Beth, for two years and may be the source of Alf's new 'hippy' (as Beth puts it) attitude to life, but there are more surprises in store for all three of them.
There's plenty of humour in the script, well delivered in Sam Hardie's production, and bags of metaphors, such as the wall where only Beth sees the damp and mould until Vee starts to see her relationship with Alf in a different light, then she can see it too. And, of course, the dead baby bird that Beth enters carrying at the start, leaving blood stains on her shirt.
Some of the more emotional speeches and the ending felt a bit drawn-out to me, but I don't know whether that is due to the writing or perhaps the actors not quite getting fully to grips with the difficult fractured dialogue yet this early in the run.
But it's an entertaining and well performed piece that examines seriously some issues of dealing with grief—Alf and Beth do this in very different ways, neither effectively—and relationships that is just long enough to put across its message without overstaying its welcome.
Reviewer: David Chadderton