Toad Hall!
Adapted from Kenneth Grahame's The Wind in the Willows by Steam Industry Free Theatre and the young people of Southwark
Steam Industry Free Theatre
The Scoop
(2010)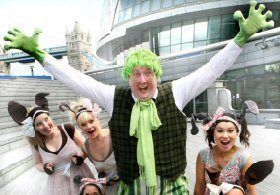 From the moment giant leaves descend and a myriad of ducks, frogs and dragonflies swim, leap and fly onto the stage at the Scoop, the audience knows they're in for a theatrical treat. Toad Hall! is the first of two pieces of free theatre courtesy of Steam Industry Free Theatre and along with Don Juan in Love makes up their 'Bad Boy Season'.
Mr Toad is a very naughty boy indeed, leading an extravagant lifestyle in which he always seems to come to harm. Entering on a bicycle, Paul Critoph scoots onto stage like a lime green Boris Johnson proud to show off his new cycling scheme. The allusions to the Mayor of London don't end there, as the background of City Hall doubles as Toad Hall and references are made to the Olympics, the elections and the congestion charge.
Critoph's Toad is a gloriously outlandish fellow who becomes most excitable at almost anything, be it car or caravan. Critoph is a wonderful comic actor and puts everything into his portrayal of Kenneth Graham's larger than life character. His pantomime background serves him well and although he doesn't play Dame at his usual festive home of Greenwich, his washerwoman is particularly enjoyable, complete with Susan Boyle parody.
To condense The Wind in the Willows into just over an hour some aspects of the plot have been dispensed with and others slightly changed, but this has been achieved in a way that it is hardly noticeable. Toad Hall! embraces Graham's tale and gives it a contemporary feel, especially with its inclusion of many modern hits.
'Is this the way to Amarillo?', 'Fight for this love', 'Poker face' and 'Don't stop me now' are all given a Toad Hall! makeover with clever new lyrics and well choreographed dance routines. The ensemble of perky rabbits and wicked weasels prove they have strong voices and nimble feet and audience members are all too happy to sing, dance and clap along to the toe-tapping numbers.
Toad Hall! treats its audience much like a pantomime does, with Toad trying out his washerwoman flirting skills on unsuspecting dads and the Chief Weasel stealing children's popcorn. The audience are also encouraged to join in with Toad's poop-pooping. Direct address plays a key role in the directorial approach and this makes it all the more enjoyable as the actors often mingle in between the crowd, giving younger audience members the magical opportunity to see the actors close up regardless of where seated.
The villain of the piece, Alan J Mirren, is a wicked Chief Weasel, wanting to inflict 'chilblains and mumps' on the 'slimy green fat one', Mr Toad. Mirren also plays a comic uptight policemen who partakes in a Benny Hill style chase with Toad and erupts with anger at being called a 'Fat head'. Each and every one of Mirren's roles is well defined and the audience revel in laughter when his wicked Chief Weasel finally gets his just des(s)erts.
Steam Industry Free Theatre have created a truly imaginative production, where blue ribbons become the river and wrapped parcels become Toad's car and caravan. Charlie Cridlan's set and costume design may well be simple, but it is incredibly effective and reminds us of the power of imagination in the theatre.
This is an incredibly enjoyable retelling of Graham's well loved tale which will please audience members young and old.
Playing Thursdays to Sundays until 5th September 2010
Reviewer: Simon Sladen