TOAST
Henry Filloux-Bennett
The Lowry
–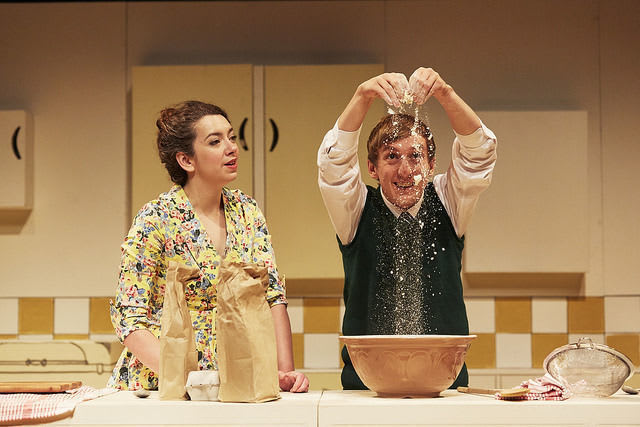 This stage adaptation of Nigel Slater's best-selling memoir—a commission for The Lowry's Week 53 festival—is a heartfelt and intimate portrayal of the famous food writer's transition from childhood to adulthood, via the loss of both his parents and falling in love with food.
From the outset, it's made clear that this is a reconstruction of events. Young Nigel (played brilliantly by Sam Newton) narrates each episode from his past, with occasional interjections from the other characters, and on press night the real Nigel Slater was in the audience. This feeling of looking back on times past is key to the charm and identity of the play, as well as tying in with the original source text.
Libby Watson's set is a retro yellow kitchen with a touch of Charlie and the Chocolate Factory about it: cabinets glide on and off, racks of silver utensils and giant jars of sweets descend from the rafters. Nigel even cooks mushrooms on a working hob.
Seating on three sides of the stage adds to the feeling of intimacy—the black-boxed space is actually the stage of the Lyric Theatre in disguise, something which adds to Week 53's subversiveness.
The five-strong cast of TOAST are excellent, bringing multiple characters to life in realistic detail and shifting seamlessly between them. Lizzie Muncey and Stephen Ventura are particularly brilliant in their intelligent, sensitive portrayals of Nigel's parents.
Although the play initially appears to be a series of gently comic food-related episodes—Nigel baking jam tarts with his mum, the family trying spaghetti for the first time—events take a darker, even upsetting turn. Crucially, though, events are never sentimentalised.
It would be remiss to review this play without mentioning the fact that there is free food. From tiny jam tarts and lemon meringue pies to paper bags of sweets, food is used to create a shared social experience between the audience and the characters onstage.
TOAST is a celebration of food, family love and the connection between the two through the eyes and experience of one person. But, thanks to these themes, it is inclusive, familiar, and timeless as the Walnut Whips handed out in the second half.
Reviewer: Georgina Wells