Toast
Nigel Slater, adapted by Henry Filloux-Bennett
The Lowry
Festival Theatre, Malvern
–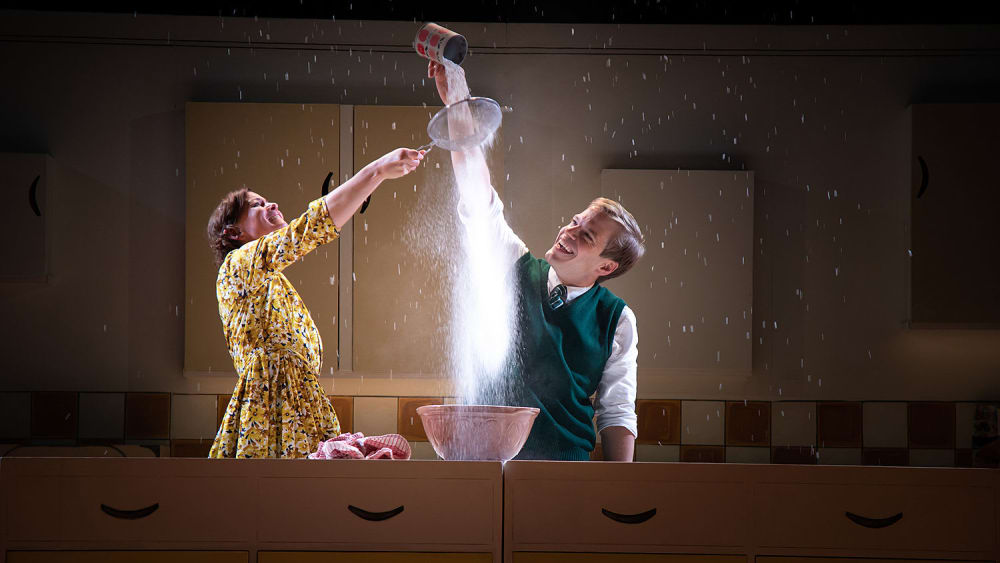 You've seen the TV series, read the book, watched the film. Now you can attend the play, and smell the (burnt) toast.
That aroma of charcoaled Wonderloaf fills the auditorium at the start of Toast, a pungent reminder of just how remarkable it is that one of Britain's foremost food presenters and critics should emerge from a household where mum always burnt the toast, and whose culinary speciality was Angel Delight.
Nigel grows up reading one book—Marguerite Patten's Cookery in Colour—with its dazzling recipes for Spanish chicken, devilled kidneys and duck a l'orange, but as his adored jam-tart of a mother remarks, "I cannot imagine anyone cooks like that at home."
The main ingredient of this dish however is nostalgia, an affectionate portrait of Slater's mum, and of life in a 1960s kitchen where "Christmas wouldn't be Christmas without cake you wonder what to do with in mid-January."
But while Slater gives us a mother who is all flour and flowery dresses, he does a real cleaver job on his dad, who comes across as prejudiced and heavy-handed and who fails to inform his nine-year-old son of his mother's funeral.
The incident is quickly passed over in Henry Filloux-Bennett's low-calorie script, based on Slater's autobiography, which, apart from short episodes in which the young Nigel gets his first job in a restaurant kitchen and meets the chef's gay son, features little action.
Nigel Slater's Toast (as it is billed to distinguish it from the Richard Bean hit comedy starring Matthew Kelly) far from being overcooked is sadly underdone, with long gaps filled with senseless choreography, and at one point the tedious recitation of a shopping list.
Like the best-trained waiters, the cast serve up this modest fare with confident panache, Giles Cooper as a winning Nigel, Katy Federman a lovable mum, Blair Plant as dad and Samantha Hopkins as the stepmother, for both of whom I felt greater sympathy than might have been intended.
At various points the audience were given chewy sweets and chocolates, the significance of which—apart from covering pauses—escaped me. It felt at the end as if one had been served the pudding without a main course.
Reviewer: Colin Davison