Tobias and the Angel
A Community Opera
Music by Jonathan Dove, words by David Lan
Young Vic
(2006)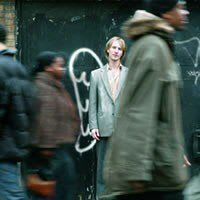 When the Young Vic Theatre was founded by Frank Dunlop way back in 1970 it was meant to be a 'temporary' performing space behind a defunct grocery shop on The Cut. But it survived to become one of the best-loved venues in London.
Almost four decades later the evening of October 11th has proved to be a triple cause for a joyful champagne celebration. The occasion marked the rebirth of this very special venue following a two year period of renewal, "on time and on budget" as the artistic director David Lan was proud to proclaim.
At the opening night those words were endorsed by Arts Council supremo Christopher Frayling, who called it "the best value for money of any of the theatre rebuilds in recent years."
Even better the heart of the Young Vic, that marvellous breeze-block arena with its spacious gallery and flexible seating, seems at once quite unchanged and yet splendidly improved, both upwards and outwards, a miracle achieved by architect Steve Tompkins who worked similar rough magic at the Royal Court.
Best of all the event was also the opening of a brilliant restaging of Jonathan Dove's community opera with its wry libretto by Lan, featuring a chorus of 80 locals of all ages, seamlessly combined with professional singers and musicians.
This, in fact, is the show that in 2004 launched the company's courageous Walkabout seasons at literally dozens of venues during the period of closure, again directed by John Fulljames, this time with a breathtaking design by Alexander Lowde deploying flying apparatus and magnetised scene hoists to take full advantage of the enhanced technical possibilities.
Dove loves telling stories and his tuneful score is one that can be enjoyed on first hearing. It has been compared with Noye's Fludde, even The Magic Flute, but with its underlying hints of Jewish music it more obviously evokes Fiddler on the Roof.
The plot is based on a Biblical story from the Apocrypha, The Book of Tobit, in which the elder Tobit, suddenly struck blind, sends his son Tobias on a journey from Nineveh to distant Ecbatana.
Ostensibly the boy has gone to collect an old debt. But unbeknown to father and son, he is accompanied by the archangel Raphael (beautifully sung by counter-tenor James Laing) through a rite of passage by way of mountains high, a river deep and the threat of evil spirits, emerging from the experience with a loving young wife and a magic cure for his father's blindness.
With an impressive record of operatic performances, tenor Darren Abrahams as Tobias copes admirably with the production's physical demands proving both a powerful singer and an expressive young actor, surviving a perilous climb on a precipitous chain ladder and a near drowning while 'swimming' to safety clutching the viscera of a giant fish.
There are also fine contributions by baritone Omar Ebrahim as Tobit and mezzo Karina Lucas as Sara, future wife of Tobias, held captive by a killer demon, and whose marital misery with seven dead husbands in a row, is wittily lyricised by her father's resident soldiery as "wed, bed, dead."
But while the narrative and dramatic impact rests with the professionals, the chief joy of the evening is provided by the superbly disciplined choral contributions: old and young in modern dress responding to Ben Wright's demanding choreography as they represent joyful citizenry, plus glorious mood-setting and storytelling vocals that thrill the ear with their marvellous sonorities.
Under the direction of conductor David Charles Abell, these are truly among the most gorgeous choral sounds I have heard in forty years of opera-going, and well worth catching before the closing night on October 21st.
Reviewer: John Thaxter