Tomboy Blues: Theory of Disappointment
Written and performed by Rachel Mars and nat tarrab
Oval House
(2011)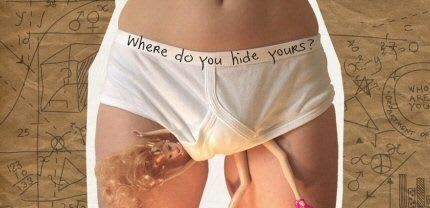 Childhood leaves us with a lot of peculiar neuroses, most of them cracking through a constant internal battle of identity with demons that we've never met. In Rachel Mars and nat tarrab's Tomboy Blues, two performers grapple publicly, physically, excessively and humorously with these demons to explore what gender really is, how we construct our own identities and what are those fears that linger and cause such apathetic disappointment to experiences that haven't even started yet.
This show is both an open conversation and a skilfully crafted travelogue that brings gender and sexual politics together. The autobiographical is made public, deconstructed, flexed, physicalized and juxtaposed with lectures on disappointment and survival strategies (the brace position). Rachel has always been more comfortable in sneakers - precisely her Spiderman sneakers - and nat is really sick of being told she's in the wrong toilet. 'If this was a love story', they tell us, 'then you can wear whatever pants you want'.
Trawling through personal archives of boot camp threats and supermarket aisles, from tree-climbing to heavy-handed destruction, Tomboy Blues doesn't allow for any theatrical sediment to deposit. Instead, it throws the personal out into the open and plays with its aesthetic too. Barbie dolls get scattered on the floor, childhood games become strong metaphors of problematic identity questions and a series of expectations pile up and fall down throughout the show. It's in this constantly surprising prop game- where knickers lie hanging in the back and piles of boxes identified as female provide the backdrop - that the two develop not only a relationship with themselves, but also one with each other and inherently, the assuming audience.
Disappointment is measured in let-downs that occur at the meeting point between expectation and hope, Rachel and nat tell us. It is in the very nature of the show to set expectations for the audience which are then broken, manipulated, tossed and turned. It opens up a theatrical language that builds and develops throughout the course of the show. The two performers are capable of rapidly changing tone and form, and this makes for a production full of realism and symbolism and, more importantly, genuine surprise and reflection.
Occasionally, the performance slips into histrionics and looks for a get-out clause, and that means some moments are more engaging and thoroughly toyed with than others. There are some underlying themes that surface throughout the show which maintain its meta-narrative and hone down essential questions on performing gender. At one point during, nat sits down to tell us the story of a girl who removed all the labels of supermarket tins only to allow them to float in anonymity. The issue of labels, what they encompass, and how flexible they allow you to be, is one that recurs throughout the show.
Tomboy Blues is, for all its wit, energy, dancing, talking, lecturing and playing, disarmingly serious, holding the weight of its politics in a highly engaging and thought-provoking production. It is the slippery moments, the insecurities of this show that make it particularly intriguing and extend its life outside the intimate space of the Oval Theatre.
"Tomboy Blues" runs until 19th November 2011.
Reviewer: Diana Damian