Tombstone Tales and Boothill Ballads
Written and directed by Carl Heap
Arcola Theatre
(2008)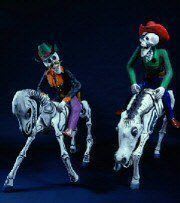 Howdy partners! I'm reporting back from the Oriental Saloon in that rugged frontier town of Tombstone in Conchise County, Arizona, where men are men and most of them are dead! After visiting Ben Hur's Rome and sailing the Black Sea with Jason and the Argonauts for earlier Christmas shows (at Battersea Arts Centre), Carl Heap has based this year's bar room entertainment on the true stories linked to epitaphs on the grave markers of the Boothill Cemetery which dates back to the silver boom days when Tombstone was founded in 1879.
There are stage coaches and Apaches, Mexicans stealing cattle and trigger happy prospectors in a feisty cabaret style show made up of fourteen scenes that dramatically encapsulate the details of particular deaths, some of them claiming several lives. It is all stylishly delivered by a hard-working all-singing all-dancing cast that gives us a mixture of ballad, melodrama, shadow theatre and magic acts, including a couple of audience participations song sheet numbers.
Tombstone is the town where Wyatt Earp and two of his brothers lived from 1879 and where he was appointed deputy sheriff of the surrounding area - though he resigned the office after only three months. He is dashingly played en travestie by Victoria Moseley, but he and his brothers are only a few of the many prospectors, lawmen, cowboys, prostitutes and other townspeople we get to meet, including a doctor (who is a specialist in gunshot wounds), a straw-hatted clergyman and a bar keeper and his customers and staff.
A brief introduction has Tom Espiner's Ed Schieffelin telling how the city got its name from the silver loads that he discovered and which he named - since someone told him tombstone would be the death of him - Grave and Tombstone, the latter also being given to the developing town. That goes on just a mite too long before, with theatrical effect, the bodies in the graveyard begin to rise up and identify themselves. Costume designer Mila Sanders has put them all, men and women, in white vests and long johns over which they add any later costuming , sometimes with very witty effect.
Since these brief episodes tell us only about the deaths - the shootings (so many of them linked with alcohol), hangings, suicides, one murder that turns out have been a heart attack and even a death from old age and natural causes - we don't find out a great deal about the characters or get deeply involved with them and there is no through story. It takes a little time for the show to build up momentum and it relies on the vitality of the performers to keep it going from item to item but keep going it does with some delightful playing that is sometimes touchingly natural but mainly melodramatic and always carefully choreographed.
There is Erica Guyatt's forceful Sheriff Fred White, accidentally shot when Earp helps him make an arrest; a pair of tarts who fight over a man - Guyatt again as Margarita, stabbed in a brawl by Gold Dollar who is a deliciously funny Ian Summers in gold bodice and ringlets, whom the audience get to sing about. (Watch out: 'she' implanted a big red kiss on your critic's balding brow!) Summers is also very funny as a rancher who acts up crazy so the Indians surrounding his homestead think he's mad and treat him as a blessed holy idiot until they find out he also does a crazy act on stage at the saloon. Then there is Alan De Vally's Doc Goodfellow who always turns up in time to declare somebody dead but seems to have no survivors.
Chris Doyle provides a high spot of the show with a staggering table top Irish dance of death on the gallows by a man who shouldn't have been hanged at all. In another great scene all the cast get involved in a stage coach hold-up with four of them splendid as horses, but also having to slip out of harness to double as outlaws and to provide the cactus landscape they are galloping past. While you join in a chorus in a song about Skeleton Canyon there are cattle herders leading the singing but with their heads propped up on the bar you see a row of their cows watching and keeping time to the music. Very jolly, but, of course, that episode too ends up in disaster.
The cast's playing may seem carefree and easy but this is a carefully crafted show that is deceptively fast moving and complex. Miriam Nabarro has given it the simplest of settings suggesting the stage of the Birdcage Theatre and the atmosphere of the Oriental Saloon largely by the placing of the audience, a pair of swing half-doors and a few fringed light shades. Composer Joe Townsend has composed tunes that sound so like the old songs that you don't realise they aren't; Jane Gibson has arranged dances that are delightful whether prancing horses or a twirling between cabaret tables and Richard Williamson has lit it atmospherically. It is very much a team show but one in which everyone gets their moments. Even though the grim reaper is stalking Tombstone's streets (yes, quite literally) the audience is having a good time.
Until 20th December 2008
There's not time in the show to go through all the 250 graves that are marked by wooden crosses in the Tombstone graveyard. If you want to catch up on the others you can do so on www.boothillgraves.com
Reviewer: Howard Loxton