Tom and Catherine / Dan Dare in Concert
Written by Tom Kelly, music by John Miles
Encore
Customs House Production Customs House, South Shields
(2010)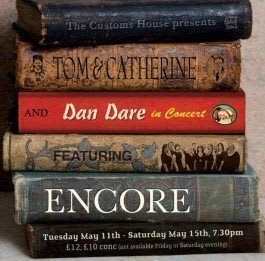 Encore return to the Customs House as part of the venue's fifteenth anniversary celebrations, performing abridged versions of Tom Kelly and John Miles' musicals, Tom and Catherine and Dan Dare.
Tom and Catherine chronicles the life of bestselling author Catherine Cookson, who was born and lived in the Tyne Dock area of South Shields until she was 23 years old, and her husband, Tom, from the time they first met until their deaths in 1998.
Blighted by her illegitimacy and her mother Kate's drinking problem, she moves to Hastings where she meets her beloved Tom. Among John Miles's musical score, 'Something Special', 'Hanging onto Life', 'Blessed With Peace' and 'I Need Your Love', sung at pivotal periods in their lives - on first meeting; during her terrible bouts of depression; on the death of her mother, Kate, and when Catherine dies, respectively - bring pathos to the show.
Patricia L. Whale (young adult Catherine) and Andrea Atkinson (older adult Catherine), John Whitfield (young adult Tom) and John Robinson (older adult Tom) and Janet Lord (Kate) portray their characters superbly and the lyrics enable them to bring their singing talents to the fore.
Narrated by Caroline Wells and Karen Aynsley, this musical production re-enacts Tom and Catherine's lives tastefully, completely captivating the audience.
After the interval, in complete contrast, Dan Dare (which will evoke childhood memories to many male members of the audience) follows one of the many adventures of the comic strip character. Embarking upon a mission to Venus with the purpose of saving the Earth, which is suffering from food shortages, he and his crew are captured by the Treens and Dan is forced into battle with the evil Mekon. Meanwhile Dan's assistant, Miss Peabody, and Crew One are vying for his affections.
With very lively songs - 'Keep A Checking', 'Can't Keep A Good Man Down' and 'Two Minutes Fifty Nine' to name but a few - combined with energetic dance routines and special lighting and sound effects, Dan Dare is much more light-hearted than its predecessor.
The excellent band, Andrew Richardson and Johnny Winter on keyboards, Ian Paterson, bass guitar, James Birkett, guitar, and David Francis on drum, compliment Encore's sensational singing perfectly.
A very entertaining evening and well worth a visit!
Runs until Saturday 15th May 2010.
Reviewer: Linda Barker