Tom Crean Antarctic Explorer
Written and performed by Aidan Dooley
New End Theatre, Hampstead
(2008)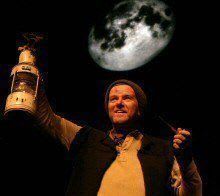 The advertisement didn't sound encouraging: "Men wanted: for hazardous journey. Small wages. Bitter cold, long months of complete darkness, constant danger, safe return doubtful. Honour and recognition in case of success."
A 37-year-old Irishman had been to the South Pole before. He knew what he was in for. Everybody has heard of Captain Robert Scott and Sir Earnest Shackelton, but very few people have heard of Tom Crean.
Crean (1877-1938), who had run away at the age of 15 to join the Royal Navy, served with Scott and Shackelton on not one, not two, but three horrendous expeditions between 1901 and 1916: firstly on Discovery, then on Terra Nova and finally on Endurance.
What on earth drove him on, dragging and hauling, in minus-thirty degrees? It was easy for him to answer. The South Pole, he said, is the last place on earth. Incidentally, minus thirty was on a good day. It was regularly much colder. The last place on earth is a freezing hell.
It is easy to die. Struggling to live is what true heroism is about.
Crean's 40-mile solo trek to base camp to rescue his comrades has been described as the finest feat of individual heroism from the entire age of exploration. He received the Albert Medal for his bravery
When Endurance was trapped in the ice floes and was crushed, Shackelton, Dooley and for other men journeyed in a 2-foot lifeboat across the South Atlantic – a journey of 800 miles.
Crean's extraordinary mettle and tenacity under the most appalling conditions and dangers is vividly recaptured in all its horrors with modesty and humor.
Aidan Dooley's monologue is one the great one-man shows: on a par with Michael Mac Liammoir's Oscar Wilde, Emlyn Williams's Charles Dickens and Roy Dotrice's James Aubrey.
Crean gave no interviews and kept no diaries. Dooley has based his show on other people's diaries and Michael Smith's book, Unsung Hero.
The show is a tremendous tribute to a brave man and an unforgettable testament to the human spirit. Dooley has deservedly won many awards. He is absolutely riveting.
Running until 16th March
Claire Simpson reviewed this production at White's Tavern, Belfast, in 2004
Reviewer: Robert Tanitch