Tom's Midnight Garden
Adapted by David Wood from the book by Philippa Pearce
Library Theatre, Manchester
(2007)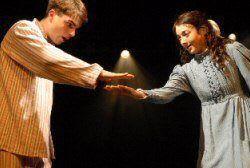 The Library Theatre does not tend to go for the light and frothy for its Christmas shows, and this year's darkly atmospheric production of children's classic Tom's Midnight Garden by the late Philippa Pearce, which won the Carnegie Medal in 1958, is no exception.
Tom is sent to stay with his aunt and uncle in their flat in an old house with no garden to keep him away from his brother who has caught measles. When the old grandfather clock strikes thirteen during the night, Tom investigates and finds himself in a beautiful garden where it appears that no one can see him, except a young girl called Hatty who lives in Victorian times. Time works very differently for the two of them, as Tom goes back night after night but to Hatty it can be months between his visits. The key to it all seems to be the grandfather clock and his aunt and uncle's elderly landlady, Mrs Bartholomew, who winds it religiously every day.
The stage has been transformed by designer Jamie Vartan into a giant clock face with hands that rotate to become walls, walkways or platforms, which is extremely clever and effective. The Library's associate director Roger Haines is assisted by Liam Steel of Stan Won't Dance and formerly a core member of DV8. Steel's influence can be seen clearly in the quirky choreography of actors who are not part of a scene wearing hats and overcoats and with two walking sticks each to move or even become scenery in a number of very imaginative and slightly sinister ways. Some scenes are almost entirely choreographed with little or no dialogue.
The adaptation contains a large number of scenes consisting entirely of Tom and Peter, in their separate bedrooms miles apart, reading their letters to one another, which could be quite dull to watch, but the slick handling of the whole piece by the two directors ensures that this is never the case. There is an almost constant cinematic soundtrack from composer Richard Taylor that adds greatly to the atmosphere of the piece, and at times is reminiscent of the music used in 80s BBC children's dramas.
The Library has assembled a superb cast for the production, headed by the wonderful Claire Redcliffe as Hatty and Arthur Wilson as Tom, who play children very well without being too childish. All other actors play at least two characters very distinctly, including Christopher Chilton and Carolyn Tomkinson as Tom's uncle and aunt and also as Abel the gardener and Susan the maid in the Victorian scenes and Matthew Dunphy as Tom's brother Peter and as the grumpy young Victorian boy Edgar.
This performance on press night almost didn't take place as one of the actors, Ben Ingles who plays Hatty's fiancé when she is older, had an accident in the afternoon and ended up in hospital, but in the end it started just twenty minutes late in front of a packed auditorium.
This show is dark and atmospheric but still suitable for families. It has a charming story with plenty of twists to keep you guessing, if you don't already know the story, right to the end. Every element of the Library's production seems to marry together perfectly, from the visual to the music to the acting, to produce a very enjoyable and impressive production.
Reviewer: David Chadderton