Tommy
Music & lyrics by Pete Townshend; book by Pete Townshend & Des McAnuff; Additional music & lyrics by John Entwistle & Keith Moon
Palace Theatre, Manchester, and touring
(2005)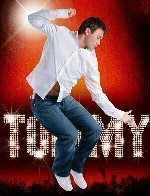 Tommy began life as a 'rock opera' album by The Who, released in 1969, but was adapted into an award-winning stage show by the band's Peter Townshend and theatre director Des McAnuff for Broadway in 1993, a production which transferred to London's West End and later toured the UK. This is a completely new staging by directors Guy Retallack and Keith Strachan.
Tommy tells of a little boy who witnesses a murder and is told 'You didn't hear it. / You didn't see it. / You won't say nothing to no-one / Ever in your life' and as a result becomes deaf, dumb and blind due to the trauma. After being abused by his uncle and bullied by his cousin, he discovers an extraordinary talent on the pinball table and becomes a celebrity. Although there is a lot of story for a record album in this collection of songs, there is not much to carry a stage show; the songs tend to describe individual episodes rather than moving the story on as a whole and sometimes are quite repetitive for a show song if not a rock song. Therefore the success of the show relies quite heavily on the staging.
Whereas the earlier production bombarded the spectator with a mass of visual information with moving scenery, projections, TV screens and, of course, the actors, one of the problems with this production is that too little is happening for most of the time. In many of the songs, the actors do not seem to know what to do with themselves while they are singing, or they have been given some actions that seem to have no thought behind them or relevance to the story at that point. This is not the fault of the largely inexperienced actors, most of whom show their ability in the few parts where they are given the opportunity to - Vivienne Carlyle and Damien Edwards as Tommy's parents, Tom Newman as Uncle Ernie and Alan (or possibly Andy, depending on which part of the error-filled programme you look at) Crawford as Cousin Kevin are all very good in some parts but then look a little lost in others. The headline name, Jonathan Wilkes, has a pleasant voice, but his pop phrasing removes the rock edge from the music (he also spends rather too long strutting and showing off his bare arms for his female fans). In fact few of the singers, with the exception of Landi Oshinowo who tears into 'Acid Queen' with great power, have that rough and dirty rock quality to their voices, turning the songs into pleasant pop-musical theatre.
The stage design by Andy Walmsley is based on the curved shape of an eye - I'm not sure why but it does look quite good visually and serves its purpose. However some parts of the scenery look cheaply made, such as the swirling spiral that looks hand painted with visible nail heads sticking out, and the large mirror that looks as though it was made from tin foil and cardboard. Ben P Cracknell's lighting uses lots of flashing, moving lights, but sometimes the important action in a scene is unlit or seems insignificant in the middle of a stage full of lighting effects. The sound balance is poor; in the stalls, it sounded very muddy as it was totally swamped with too much bass (I went home feeling as though someone had been punching me in the chest in time with the bass drum for two hours).
Although it is not fair to compare even a large-scale touring production with a Broadway show, at least the earlier production showed that skilful direction can create an impressive and entertaining stage show of Tommy. This production seems to have spent time and money on creating a show that looks flashy and spectacular while neglecting the development and rehearsal time necessary to give it some real substance. As a result, the show is in danger of being grouped with the so-called musicals created from pop songs that fill many of the actors' biographies, whereas Tommy has had more substance than any of these since the album over thirty-five years ago. The ending was indicative of just what has been done to this show: just as the last number 'Listening To You' was starting to achieve some of the stirring quality it is meant to have, the atmosphere was shattered by Wilkes asking the audience to stand up and clap along, turning a powerful, hard rock ending into something resembling a boy band pop concert.
"Tommy" runs at the Palace until 9 April 2005
Peter Lathan reviewed this production on the last leg of its tour at the Theatre Royal, Newcastle
Reviewer: David Chadderton