Tom's A-Cold / The Ruffian on the Stairs
David Egan / Joe Orton
Directors' Showcase
Orange Tree, Richmond
(2010)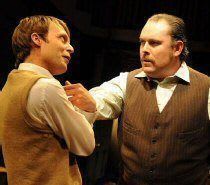 Bardophiles reading the title can be forgiven for thinking that Tom's A-Cold is a latter-day look at Shakespeare's King Lear. In fact David Egan's tragicomedy is a quasi-patriotic attempt by this Vancouver-born playwright to make sense of Sir John Franklin's 1845 voyage around the icy waters of the Canadian Arctic, a fateful bid to chart a hoped for Northwest Passage.
This three-year voyage, eventually leading to the painful deaths of Franklin and his entire company, is perhaps best known here from John Renbourn's folk ballad rendering of 'Lady Franklin's Lament', which he recorded with Pentangle in 1969 and to which poignant account Egan's play adds surprisingly little substance.
Instead we find ourselves in the company of two apocryphal figures, junior members of Franklin's hapless crew, abandoned to their fate in a rowing boat that has come aground on King William Island, half way through the ice-locked Passage. Now with dwindling supplies they struggle to survive while awaiting a relief expedition that they and we know will never come.
As one of the two trainee assistant directors for the Orange Tree's 2009-10 season, Lora Davies has chosen this new, longish one-act play for her 'graduation' piece, and as a result has set herself an unusually difficult task.
To begin with, set in the marooned dinghy, its two slightly crazed occupants going nowhere, it makes for a static, essentially non-dramatic interplay, rambling over thoughts of England, home and beauty, starvation, cold, deprivation and inevitable death — even Beckett saw the need for another character or two to enliven his Godot exchanges.
There is some by-play about naval etiquette — one is a ship's officer and a bit of an intellectual, the other an insubordinate able seaman — and a great deal about navigation, the pains of constipation, cannibalism and the possibility of homosexual solace to pass the time. But at about the fifty-minute point it was noticeable that several audience members appeared switched off by the circular duologue while discreetly consulting their wristwatches.
To mark the passage of time the lighting designer Stuart Burgess makes sudden changes to the stage illumination, albeit not always quite fitting the progress of the play — until the closing moments when a full fade-out marks the second and final death.
But it would only be fair to give Miss Davies high praise for her imaginative use of movement and vocal variety, and for her superb work with her two well-cast actors: Christopher Heyward as the officer and gentleman, and Luke Trebilcock as his sly second in command who, like Oates a century later, goes off to die alone in the frozen wastes, before returning as a ghostly authority figure.
If the true 'ruffian' is death, there can never be too many revivals of Joe Orton's brilliant first play The Ruffian on the Stairs, which prefigured both his Mr Sloane and Pinter's The Homecoming, especially when as here it's played with such finesse by Emma Faulkner's handpicked cast.
From the moment it opened I spotted that she and her designers (Sam Dowson and assistant Katy Mills) had cleverly managed to convert the in-the-round Orange Tree stage into a transverse configuration for Joyce and Mike's seedy London flat: a front door on one corner, directly opposite an alcove bedroom complete with 1960s candlewick bedspread on the other; the room furnishings between, especially the sofa, concentrate the action between these two polar points.
The other ruffian is a menacing stranger in the person of Wilson, a young gent's hairdresser who, while ostensibly in search of a room to rent, also seems to know a lot about the private lives of the flat's occupants. Instead he plans to engineer his own death at the hands of Mike, an Ulster contract killer, as a curiously inverted revenge for the hitman's cold blooded murder of his brother and homosexual lover.
A bleak plot generating powerful if uneasy comedy, it depends for success on being played with desperate seriousness and a complete lack of any suggestion of humour, as Orton himself insisted. Thus here, while a human body bleeds to death on the kitchen rug, the attention of Joyce and Mike is concentrated on the accidental death of her goldfish whose bowl was caught in the crossfire.
The three performances are worth crossing London to see. John Paul Connolly is superb as the cruel, matter of fact killer, at first cosying up to Wilson while threatening his female flatmate, played with powerful presence by Emma Beattie as a frightened woman with a dubious past.
As Wilson, Carl Prekopp, fresh from his success at Riverside in the title role of Richard III, confirms Benedict Nightingale's assessment as "a fine actor with a most interesting future." This is also the most completely Ortonesque performance for a generation, one that should make him a shoo-in for revivals of both Orton and the early plays of Pinter, and should not be missed by talent spotters.
Reviewer: John Thaxter