Tonight at 8:30
Noël Coward
English Touring Theatre
Richmond Theatre
–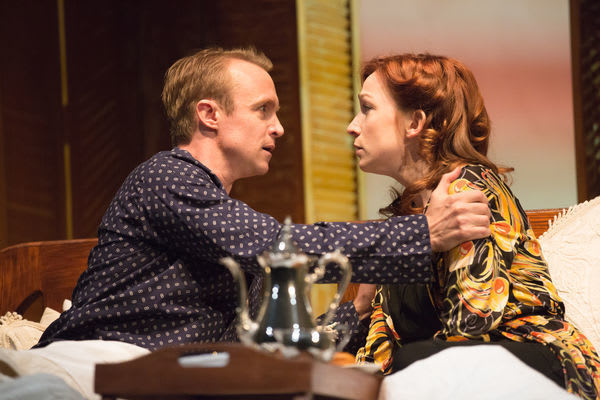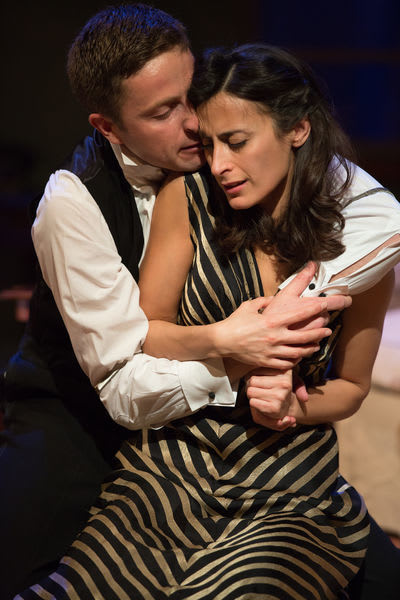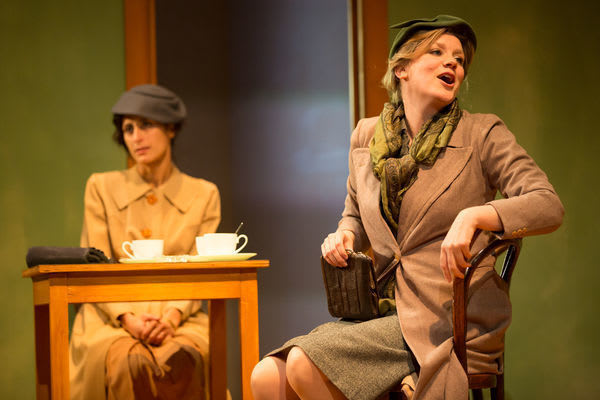 Hardly a month goes by these days it seems without a revival of yet another of Noël Coward's plays. He has never been so successful.
He wrote Tonight at 8:30, a cycle of nine one-act plays, as acting, singing, and dancing vehicles for Gertrude Lawrence and himself. They were spread over three nights in three triple bills.
Blanche McIntyre's production for English Touring Theatre is the first time, since their premières in 1936, that all nine plays have been performed together. So the revival is something of an occasion and essential viewing for all Noël Coward devotees; and on Saturdays you can see all nine on one day.
McIntyre has made the wise decision to turn a vehicle for two stars into an ensemble piece and the leading roles are shared out between nine actors.
There are three triple bills, which are advertised under three different collective headings, Cocktails, Dinner and Dancing.
Cocktails contains these three plays:
We Were Dancing, as Coward admitted in the preface to the published text, is a very light episode and never intended to be more than a curtain-raiser.
Between the wars, there was nothing much for Brits who lived and worked in the colonies to do, except drink whisky and have affairs. Louise (Kirsty Besterman) and Karl (Rupert Young) fall in love one night and out of love before dawn and even before they have had time to have sex. The piece requires the most sophisticated, brittle and blasé acting and an actor who can sing.
Coward said The Astonished Heart was "too esoteric to appeal to a large public."
A married psychiatrist (Orlando Wells), driven to madness by his obsession for his mistress (Shereen Martin), ends up jumping out of a window. His wife (Olivia Poulet) suffers bravely. There is one scene which is almost Strindbergian in its violence, bile and eroticism.
The fun of Red Peppers was obviously in seeing Noel Coward and Gertrude Lawrence pretending to be dead common music hall artistes, squabbling in their squalid dressing room and performing two tacky routines, one as sailors, the other as toffs with top hats, tails and canes.
Without Noel and Gertie, it has usually fallen flat. But this time it succeeds better than I have ever known it and this is because Daniel Crossley and Amy Cudden and their tacky routines look like the genuine article.
Dinner contains these three plays:
Coward never cared for Ways and Means, a poor comedy set on the French Riviera.
A married couple (Kirsty Besterman and Gyuri Sarossy) are so broke they decide to rob their hostess with the help of a chauffeur who has turned burglar. The denouement needs to be sharper. Why doesn't the chauffeur, having tied them both up, not hop off with all the money?
Fumed Oak, a bitter, working-class comedy, which harks back to the Manchester School of Realism and also recalls Somerset Maugham's 1930 comedy The Breadwinner, is one of Coward's best plays.
A henpecked husband (Peter Singh) tells his shrewish wife (Olivia Poulet), his adenoidal daughter and his ghastly mother-in-law, exactly what he thinks of them and, having delivered his tirade, walks out on them for good. Coward always said that of all roles in the repertoire, it was the one he enjoyed playing most. Singh is spot on.
Still Life, a simple story told with restraint, tenderness and pathos, is chiefly remembered today as a film, the quintessential British Brief Encounter, directed by David Lean in 1946 and starring Celia Johnson and Trevor Howard.
A doctor (Gyuri Sarossy) and a housewife (Shereen Martin), two very ordinary people, both married with children, meet by accident at a railway station refreshment room and fall in love. She, in particular, does not like the furtive, hole-in-the-corner cheapness of their meetings and argues that it would be "Much better not to love at all... far braver to say goodbye and never see each other again."
The action is spread over a year. Their essential decency and feelings of guilt lead them to hurt nobody but themselves. Their final scene, in which the unexpected arrival of a talkative friend stops them saying goodbye to each other properly, is a masterstroke.
Still Life, a fine example of low-key, stiff-upper-lip writing, has been parodied endlessly. Shereen Martin and Gyuri Sarossy wisely avoid imitating Celia Johnson and Trevor Howard, who have been so often parodied, and find their own effective understatement. Amy Cudden as the barmaid and Peter Singh as the ticket collection offer a nice contrast to them.
Dancing contains these three plays:
In Family Album, a bourgeois Victorian family in the 1860s is in deepest black for the funeral of their much-hated papa. They get tipsy and a wake turns into a sing-song and a series of musical toasts. But for this miniature operetta to work, it really does need singers.
Terence Rattigan rated Hands Across the Sea amongst Coward's best work.
The comedy (which was said to be a joke at the expense of Lord and Lady Louis Mountbatten) is in the confusion caused by the unexpected arrival of two colonials (Orlando Wells and Olivia Poulet) at a London home. The hostess (Kirsty Besterman) mistakes them for somebody else.
Besterman, babbling away on the 'phone, is perfect, so is Wells, who says nothing and gets his laughs with his look. The goodbye exits are hilariously managed.
Coward described his musical fantasy, Shadow Play as a pleasant theatrical device which gave him and Gertrude Lawrence, "the chance to sing as romantically as they could and dance in the moonlight and convince the audience they were very fascinating indeed."
A Mayfair couple's five-year marriage is on the rocks. The unhappy wife (Olivia Poulet) takes an overdose of sleeping tablets and, whilst hallucinating, relives past happy moments she shared with her husband (Rupert Young).
The script is characterised as "a lot of small talk with quite different thoughts going on behind it." The message is clear: "Seize the moment. Grab every scrap of happiness while you can." The songs—"Then", "Play, Orchestra, Play" and "You Were There"—are haunting.
The play's construction, in its use of flashbacks and crosscuts, is very cinematic. The production should shimmer and glitter, recreating the glamour and elegance of, for instance, a Fred Astaire and Ginger Rogers movie. I saw it excellently performed at the Shaw Festival in Niagara-on-the-Lake. Here, unfortunately, the actors, director and designer are all completely out of their depth.
It has to be said that in all the plays which rely on singing, the actors sound and look uncomfortable. The designer, too, is in difficulties; obviously working on a very limited budget, he has come up with sets which look like something out of bad 1930s weekly rep.
I saw all nine plays on one day and they certainly benefitted from being seen together. I enjoyed my day. I particularly enjoyed Red Peppers, Fumed Oak, Still Life and Hands Across the Sea.
The one-act play flourished in the Victorian age as a curtain-raiser to the main play. Noël Coward's attempt to revive the genre proved to be a one-off. But there are many one-act classic plays by Chekhov, Strindberg, Shaw, Synge, Barrie, Houghton, Brighouse, Saroyan, Tennessee Williams, Shephard, Stoppard, Mamet, etc, etc, which are well worth reviving. Perhaps the National Theatre during the height of the tourist season could run a repertoire of such plays at lunchtime?
Tonight at 8:30 is touring to Oxford Playhouse, The Lowry, Cambridge Arts Theatre, Theatre Royal Brighton and Hall for Cornwall.
Reviewer: Robert Tanitch