Tonight at 8.30
Noël Coward
Minerva Theatre, Chichester
(2006)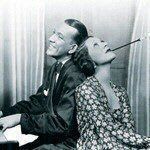 I thought I was familiar with Noel Coward's work - silk dressing gowns, "Mad Dogs and Englishmen" and witty and amusing plays concerning the rich and privileged 'bright young things' of the twenties and thirties. But there's much more to Coward than that, as evidenced in the six of his short plays now being performed at Chichester under the title Tonight at 8.30 covering two performances – parts 1 and 2.
Originally written as a vehicle for himself and his favourite co-star Gertrude Lawrence, ostensibly so that they wouldn't become bored with a long run of the same script every night, each play is a complete and satisfying whole so it is not necessary to view the two performances in order, and both parts contain comedy, tragedy, and the intricacies of human relationships, demonstrating the versatility of a man who was constantly re-inventing himself to reach a new audience.
Part 1 begins with Red Peppers - the demise of the music hall and the vaudeville acts which could not keep up with changing tastes. A dressing room quarrel between husband and wife performers gradually includes the conductor and manager of the theatre and concludes with an on-stage brawl – pure comedy, and containing much of the Master's cutting wit. In this play we are in the dressing room and watching the on stage performance from behind, and in the background a truly dreadful soprano is preparing her voice. The sets are ingeniously designed by Dick Bird and change for each play, while a trio of musicians, under the direction of Matthew Scott, provides interlude music composed by Django Bates - not the usual Coward style, but bringing atmosphere to the occasion.
From comedy to tragedy and The Astonished Heart tells the tale of a psychiatrist who cannot control his own life and finally, in despair, disposes of it. This play begins at the end with the suicide, and then recounts the events leading up to the tragedy From laughter to tears, and then back again, and nicely following the previous catastrophe Family Album begins with a funeral and a family who have just buried their father. Poking fun at the hypocrisy of Victorian society it soon becomes apparent that they are all expecting to benefit from the death and are happily looking forward to their inheritance. Every little detail distracts them from their mourning – even to delighting at the sight of a squirrel – and when the treasure chest of their discarded dressing-up box is opened by mistake the party spirit really takes over.
Lucy Bailey, fresh from the vengeful and bloody Titus Andronicus at Shakespeare's Globe Theatre, directs this very contrasting show with flair and originality, and each play is totally engrossing.
Six plays in all and only nine performers – each one expertly playing several very diverse parts involving multiple costume changes and rather a lot of dialogue to absorb
Part 2 begins with Hands Across the Sea – an hilarious case of mistaken identity and the entanglements one can get into with a popular but scatty hostess and a very long telephone cord. Leah Hausman's intricate choreography comes into play here, as well as in the final Shadow Play – a delirious dream (too many pills taken) where dance sequences echo the style of Astaire and Rogers and a very versatile and unpredictable bed makes an appearance, to the delight of the audience.
The middle one of this trio is Fumed Oak – a discontented domineering wife and a whining daughter eventually become too much for the downtrodden husband and the worm turns. Coward, surprisingly, knew about the perils of domesticity too.
Enthralling, intriguing and hilarious – a nicely balanced programme and not to be missed.
Running until 2nd September
Reviewer: Sheila Connor