Tony! [The Tony Blair Rock Opera]
Harry Hill & Steve Brown
Park Theatre in association with Nicholson Green Productions
Park Theatre (Park 200)
–

Listing details and ticket info...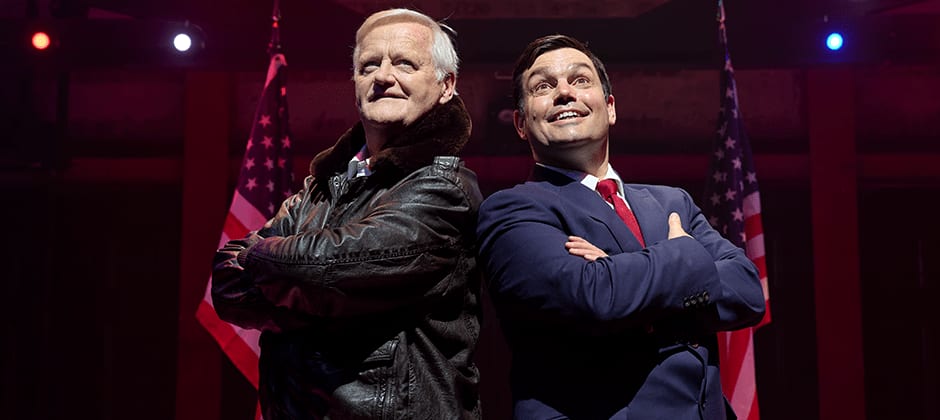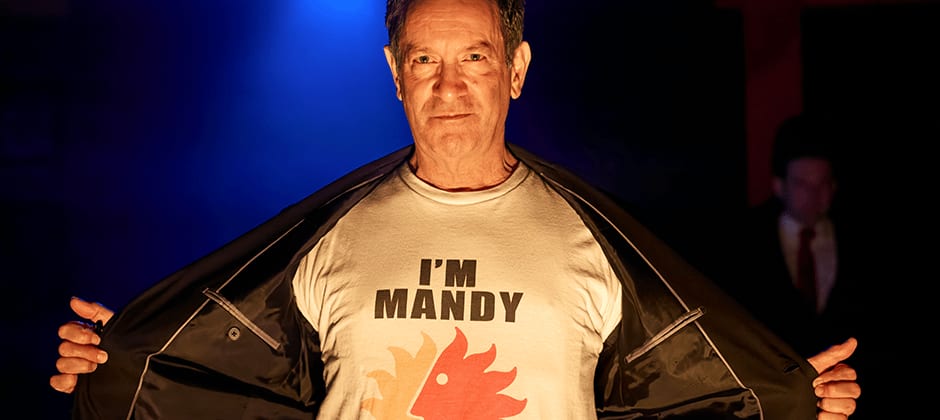 If you have any jokes about New Labour and Tony Blair, then post them to Harry Hill. I'm sure he'd take them to judge by the grab-any-joke show Tony! [The Tony Blair Rock Opera].
Not that it doesn't have the odd moment of promise, such as the opening sequence in which the aged, dying Blair (Charlie Baker) lies in a bed as the show's cast sing a Sweeney Todd-style warning about the story they are about to tell.
But if that ominous opening promised something frightening, what follows has little purpose beyond chasing poor jokes. Blair is the smiling public schoolboy without a brain, who ambles through Oxford, followed by a legal job and Parliament occupying Brown's university bed en route because he's 'a straight kind of guy.'
That Blair line of being 'a straight kind of guy' also gets spoken later by a Groucho Marx cigar-smoking Saddam Hussain who sings, "I never done anything wrong."
Not exactly hilarious, but better than the depiction of Robin Cook (Kaye Brown) who wants us to notice his hair and claims he is only interested in "bonking my secretary" and makes it clear that "the only laws I am prepared to break at the moment are the marital ones."
Sex is never far away in this musical. Mandelson (Howard Samuels) flirts with a man in the audience saying, "you can fly me any time of the week, sweetheart." Princess Diana (Madison Swan) gets into the act, flirting with Blair, telling him to sex up the war dossier. And to cap it all, Blair embraces Bush who has been in song comparing their special relationship to that of "a boy with a dog" and "a bullet in a gun." That sequence ends with an almost-kiss.
No surprise that Blair returns to the UK ready for war looking as if he has had the orgy of his life.
Not that it's all about sex. There is no sex with Gordon Brown (Gary Trainor), who holds his teddy bear like a desperate comforter and appears with his trousers down because it is "about substance, not image."
This is a musical, but you won't remember any of the songs, though the opening number might send you home humming Sweeney Todd and the closing cynical piece "The Whole Wide World is Run by Assholes" makes for a decent finish.
The cast works hard to make this misguided musical work, but it remains little more than an aimless old fashioned sketch show.
Reviewer: Keith Mckenna