TONY! [The Tony Blair Rock Opera]
Harry Hill and Steve Brown
Nicholson Green Productions and the Park Theatre Productions
Pleasance at EICC
–

Listing details and ticket info...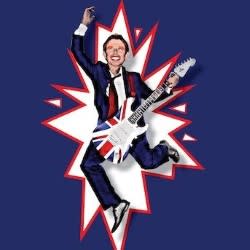 The Pentland suite at the EICC probably has the most plush seats on the Fringe, so it was a pleasure to watch Tony! The Tony Blair The Rock Opera in comfort.
This irreverent knockabout satire begins with Tony Blair, brilliantly played by Jack Whittle, on his deathbed desperate to confess his sins to a priest.
And so we begin a rollercoaster ride of Blair's momentous life. From his birth, a true touch of pantomime, through his teenage years and obsession with Mick Jagger; his time at Oxford University before joining a London law firm where he meets is wife-to-be Cherie Booth (Tori Burgess) and eventually entering politics.
The effervescent cast of ten all wear dark suits with red ties that reflect the simple red set with large illuminated letters spelling out "Tony!". They all perform with energy and pace portraying a multitude of larger-than-life, hugely enjoyable characters that are cleverly lampooned.
Howard Samuels is splendid as the smarmy Peter Mandelson controlling Blair and, by complete contrast, USA's Dick Cheney. Phil Sealey captures Gordon Brown to perfection and Saddam Hussain played as Groucho Marx is absolutely hilarious.
There is so much to pack into this 90-minute romp through Blair's 13 years in office that covers the Iraq wars, the bombing of the Twin Towers 9/11 that changed the world, the death of Princess Diana (a stunning lookalike performance by Emma Jay Thomas) and the 'special relationship' between Bush and Blair.
The powerful rock music with many witty lyrics has more than a passing pastiche of the likes of Les Mis and Sweeney Todd and is performed with gusto by the whole cast.
There are so many funny physical gags in this vivacious, entertaining production. And the ending pokes fun at world leaders. It's an absolute hoot.
Reviewer: Robin Strapp