Too Much Pressure
Alan Pollock
Belgrade Theatre, Coventry
(2011)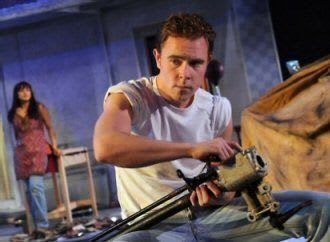 It will be no surprise that a play about Coventry in the late 70s features cars and rock bands. Belgrade Theatre's new production, Too Much Pressure, has both a real live rock band and a genuine Triumph Herald car on stage. They bookend a set by Neil Warmington that evokes the garden of a council house, where Cliff (David Hounslow) and his son Terry (James Kenward) are lovingly restoring the 1959 Herald. The car, from the heyday of Coventry's motor industry, is in contrast to the urban decay and growing despair that is engulfing the city. Cliff and Terry are automotive workers and cannot imagine a life outside Coventry, or without the car factories around which the local economy has been based for decades.
On the other hand Cliff's youngest son Gary (Gavin Flower) can't wait to get out and sees a career in music as his ticket. He befriends Nick (Edward Hancock), a grammar school student who has his sights set on studying at Oxford or Cambridge. To Terry and the other workers at the motor plant being intellectual automatically labels you a queer so to save his image Nick invites Sonya (Rebecca Grant) to hang out with them. Terry is impressed but torn. Sonya is attractive but she is Asian, and this is a time when simmering racial tensions are at the point of violently exploding. As it turns out Sonya can play guitar and soon joins Gary and Nick in their makeshift band.
The show is well cast, although a number of the less experienced actors took a while to warm into their roles. David Hounslow and Nick Holder are strong as Cliff and Neville who are old enough to remember the Coventry motor industry in its glory years. Of all the characters Terry is the most interesting and complex. On one level he is frustratingly immature and a violently self destructive but Kenward brings depth to a character that could have easily fallen into stereotype. Kenward's sympathetic portrayal allows the audience to feel sorry for a man trapped by his circumstances. Without an education (Terry is illiterate) he feels stuck in a world that is crumbling around him.
The inclusion of local rock band The Ripps is a nice idea but they are under-used within the production as a whole. The band provides music when Gary, Nick and Sonya are jamming and for the occasional scene transition, but could have delivered a far more comprehensive accompaniment. Their presence within the show feels more like a novelty add-on rather than a dynamic cross-form collaboration.
Too Much Pressure is the final in a trilogy of plays exploring significant dates in Coventry's history. Producing work that interrogates and reflects on the culture and history of the city is a worthy undertaking for the Belgrade Theatre. However Alan Pollock's play at times feels like it's simply ticking historical boxes. Each character accurately portrays a different aspect of the death of the Coventry motor industry but would have benefited from being developed further in their own right.
Runs until February 19th.
Reviewer: Iain James Finlayson