Top Hat
Music and Lyrics by Irving Berlin. adapted for the stage by Matthew White and Howard Jacques
Victoria Theatre, Woking (tour)
–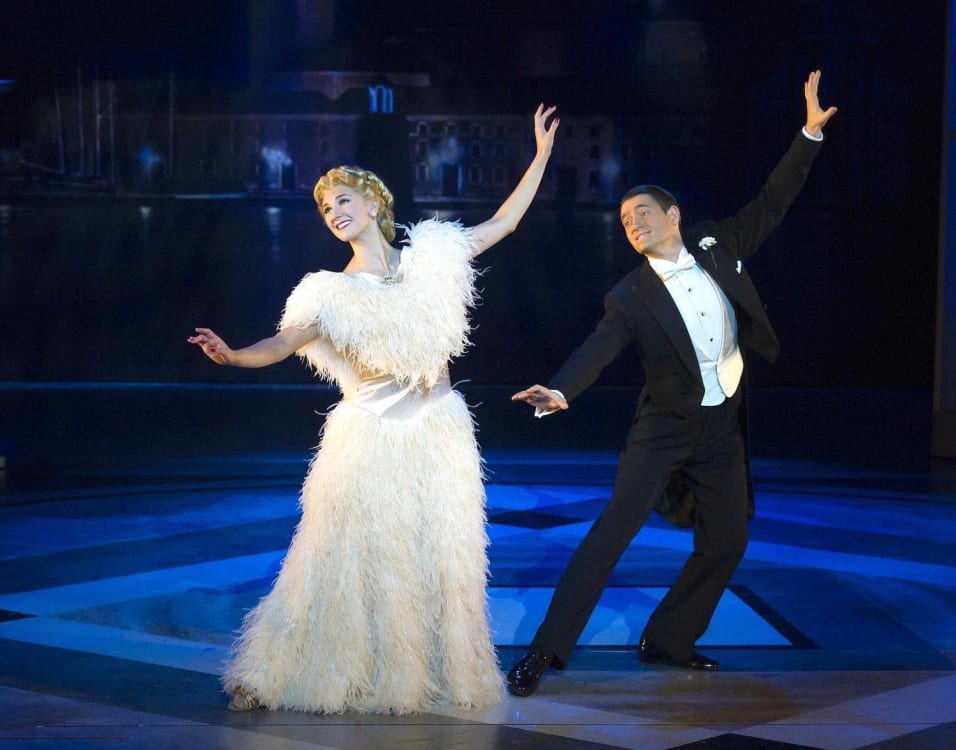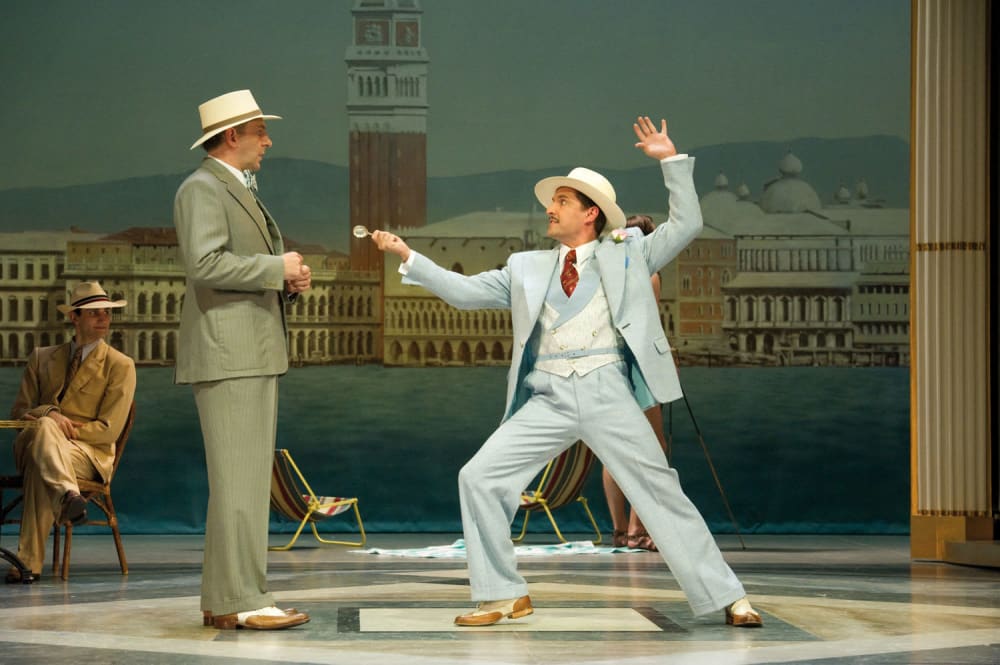 Begin as you mean to go on, I always think, and this show begins by bursting onto the stage and into vibrant and exciting life with the whole company in a fast and furious (and superbly executed) tap routine and 'go on' they do as the pace never flags right to the exuberant finale / curtain call all of three hours later.
First screened at Radio City Music Hall in 1935, this was the most successful of the nine great movies that Fred Astaire and Ginger Rogers made together, and more than seventy years later this affectionate pastiche of the original has arrived on stage keeping very closely to the style, mannerisms and speech of the period and with ten more of Berlin's fabulous musical numbers added to the original five.
The story is slight—boy meets girl, loses girl, regains favour and all ends happily—more a vehicle to hang the songs on than anything, but each lyric is relevant and moves the narrative forward, and within that framework there is laughter, romance, drama, comedy, mistaken identity and never a dull moment as the action transfers from New York to London and then on to Venice with a tremendous variety of venues in each city.
Hildegard Bechtler's set is a dream of elegance, beauty and versatility, every scene perfection as it slides, revolves and evolves, giving plenty of surprises along the way, and it has one very memorable and indescribable scene with the hero appearing to dance on two floors at the same time, while Jon Morrell's costume designs had the girls next to me (and me too) drooling in envy. It was amusing too to have dressed the heroine in the same style of feathered frock which got up Astaire's nose in the 'Cheek to Cheek' number. This was a very elegant, stylish and exciting age but you had to be rich, and there's no need to comment on the relevance of the escapist element appealing to people in the midst of The Thirties Depression.
Tom Chambers (who was a winner in Strictly Come Dancing) is Jerry, the rich and successful musical performer chasing an equally rich society girl. His dancing is terrific, his acting great, and if his voice is not exactly top-notch well neither was Astaire's but both satisfactorily pleasant. Dale, the object of his affections, is a gorgeous and very talented Summer Strallen, a 'triple threat' indeed as she excels at everything, song, dance, comedy, drama, and I believe she plays violin too.
The dialogue is crammed with wise-cracks, one-liners and sarcastic put-downs, the best of these superbly delivered by Vivian Parry's Madge Hardwick in a love / hate relationship with husband Horace (Martin Ball), who is not slow in that department either, and there are two superb comic characters in ostentatious Italian Alberto (Ricardo Afonso) and scornfully superior butler Bates (Stephen Boswell) 'a blessing in disguise'.
Best of all though, in Matthew White's extravagant production, is the dancing which is almost non-stop and, with Bill Deamer's choreography creating intricate, fast, witty and often comical routines, performed with pizzazz by the enormous cast—and no stopping for a breather or to shoot the scene again. With musical numbers such as 'Puttin' on the Ritz', 'Top Hat, White Tie and Tails', 'Let's Face the Music and Dance' I was in Heaven even without dancing 'Cheek to Cheek'. Sensational!
Touring to Bristol before opening at the Aldwich Theatre, London, previewing from 19th April.
Reviewer: Sheila Connor