Top Story
Sebastian Michael
Optimist Creations and Cherry Picked Pictures
The Old Vic Tunnels
–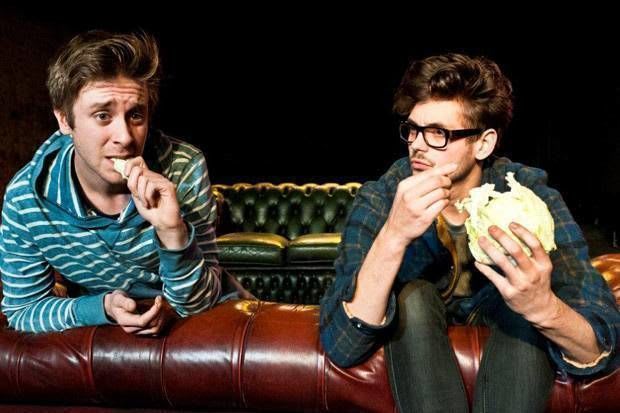 What would you do if the world was about to end? Who would you want to die with and how? What legacy would you want to leave?
Sitting on a comfy sofa, these are the questions with which friends Gus (Lewis Goody) and Talfryn (Ed Pinker) are faced when they discover that a meteor called George (about the size of LA) is due to hit LA and wipe out the entire human race. Stockpiling booze is their first reaction followed by blokish banter and then deep thinking. The flat temporarily becomes their world with few outside interferences except a nagging mother, needy girlfriend and the TV news.
Representing the media is the immaculately polished professional Chrissie Craven (Josephine Kime) who presents the rolling news coverage that that Gus and Talfryn periodically check. These are skits that almost stand apart from the rest of the piece and allow Andy Hawthorne and Richard Matthews to indulge in a variety of comical characters including disgruntled reporters, government ministers, scientists and even a Branson-style business man offering, through a lottery, seats on his spacecraft.
These diversions are not only satirical but provide the most obvious of laughs once the motif becomes clear, namely that none of the experts really knows what they're talking about and that they're taking it in turns to proposition Craven. Kime strikes just the right balance between innocence and sexiness, playing the comedy beautifully straight.
Breaking up the ping pong match between the flat and studio are two Angels (James Messer ad Stephen Schreiber) who are observing the human reaction to this major event. Whilst this offers an interesting external perspective and plenty of musings on the subject of infinity, it feels rather laboured in places and begins to slow the pace in the second act quite substantially.
There are a few belly laughs here and some interesting philosophy too, but an overall trim to the script would make the wit seem sharper and the dialogue more thought-provoking. Whilst the influence of Godot is clear, this play lacks the impact of the latter due to an unnecessary repetition of ideas. There are, however, forceful performances from all of the cast and the relationship between Gus and Talfryn is extremely believable.
Top Story offers frequent chuckles which saves it from feeling worthy. An impact will definitely be felt by this play but it is unlikely to blow you away.
Reviewer: Amy Yorston