On Top of the Town
A Northern Stage/Noord Nederlands Toneel co-production
Northern Stage, Newcastle
(2006)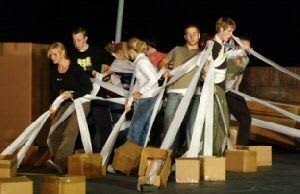 Take sixteen teenagers, eight from Newcastle and eight from Groningen in Holland, and two very talented young professional directors from Northern Stage and Noord Nederlands Toneel (NNT). Add support from the British Council and a dramaturg/artistic consultant, plus technical expertise from both theatres. Then give them the task of jointly developing a theatre project, although they will only meet in the flesh for two weekends and three full weeks over the year-long development period. What you'll get will either be an unmitigated disaster or something really special and exciting.
Given that On Top of the Town was to be the first production to open at the newly rebuilt Northern Stage, it really had to be more of the latter than the former! And so it proved.
From the start, it was obvious that this was going to be rather different. We, the audience, sat on the stage. Or rather, on the backstage area, while the company performed very close-up on the stage itself and, at times, in the raked seats of the auditorium. So we arrived through corridors that the public don't normally see to be hurried along to our seats by company members using megaphones. Then some very large cardboard boxes on the front of the stage - or the back from our point of view! - started to inch forward with, eventually, other company members emerging from them.
On Top of the Town is not really a play: it's more of a theatrical exploration of the company members' reactions to city living and to being in a foreign country, as well as their own imaginings of the perfect city to live in. It is therefore a series of scenes (including not just direct addressing of the audience but actual intermingling of the company with the audience) which are thematically linked. It is also very European in its "feel": the word "alienation" occured to me as we were led to our seats, with all the theatrical artifice perfectly obvious, but the European feel goes well beyond that. Where, in British theatre, the text is supreme, here we had much more use of visual imagery and physical theatre.
There are strong elements of clowning (very much a universal language in itself!), which is fairly typical of a lot of European physical theatre, whereas British physical theatre tends to owe more to contemporary dance - although that (and a touch of ballet) did make its appearance here. The theatrical style, in fact, could best be described as eclectic.
The production is partially in Dutch - and it transpired (unsurprisingly!) that there wasn't a single Dutch speaker in the audience - but that was an important ingredient in the piece and our lack of comprehension mirrored that of the two Newcastle lads who tried to chat up a couple of Dutch girls with a knowledge of just six Dutch words, two of them being "ja" and "ne"!
Fascinating and enjoyable: what more can one ask?
Reviewer: Peter Lathan