Torsten, The Beautiful Libertine
Barney Ashton with music by Christopher Frost
Above the Stag Theatre
–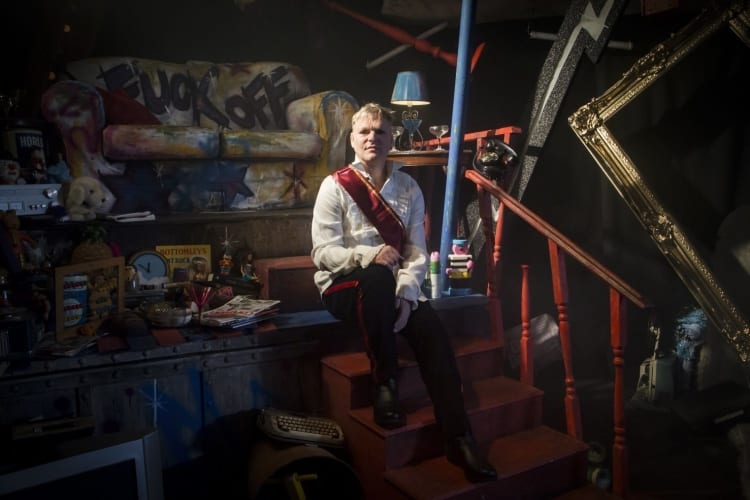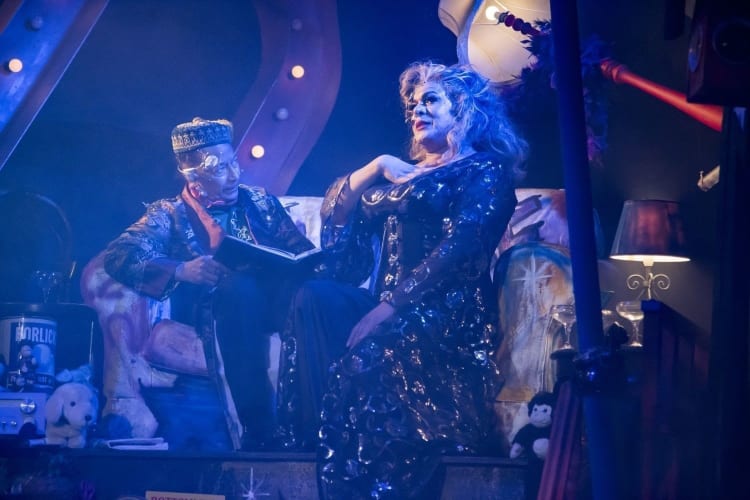 Torsten began to appear in Barney Ashton's verse many years ago and, two years ago at the St James's Theatre, Andy Bell appeared in Torsten the Bareback Saint and recorded its songs
The Beautiful Libertine follows on from that, presenting Torsten (the Scandinavian given name means Thor's stone) as the handsome, long-living lover of many liaisons but a man never completely connected with any of them.
This isn't an ordinary narrative but an intimate sharing of the memories, sometimes regretful, of a man who lives with loneliness: memories of people, of good times and bad times, of hedonist living and of sadness.
Two of his past loves contribute their memories too: Lana P (aka Al Pillay) is a wonderfully over-ripe diva and Peter Straker, in oriental dressing gown and embroidered titfer, a decadent pensioner, their comments caustically cruel. Their ebullient theatricality and pointed projection has a blatancy that makes Bell's Torsten appear almost guileless.
Peter Straker carries a book and flourishes a quill pen. Does it make him a kind of recording angel as well as being a useful aid to the memory? Even reading his lines is done with accomplishment and, paired with Lana P, their playing off each other makes this is a spirited evening.
Writer Barney Ashton loves language. He wraps up comic crudities in rhyming and rhythm that make them delightful: this is an adult show of sexual and scatological reference with no intervening innuendo.
For many, Andy Bell will be the primary attraction. He speaks Torsten's non-musical musing as voice-over while suitably reacting on stage; it is an internal monologue that makes the live songs seem more like confession. Christopher Frost's music, tuneful and reflective allows to Bell deliver them with an openness that hides nothing from the audience.
Robert McWhir's direction moves easily between the concentration with which Torsten shares things and his former lovers' double act. The mood of the piece is beautifully created by David Shields's design which fills the stage with a collage of objects that suggest a whole life spilling across it from the blatant "Fuck Off!" scrawled on a sofa and a Union Jack chair to the empty gilt picture frames and the detritus of ordinary objects.
Against this, there is Torsten looking innocent in white with a red sash to single him out as special and the other two suitably exotic with Lana P given dresses any drag queen would die for.
This is a tuneful two hours full of laughter but with a deep undertow that can be very touching.
Reviewer: Howard Loxton