Tosca
Giacomo Puccini, libretto by Giuseppe Giacosa and Luigi Illica
Theater an der Wien
Released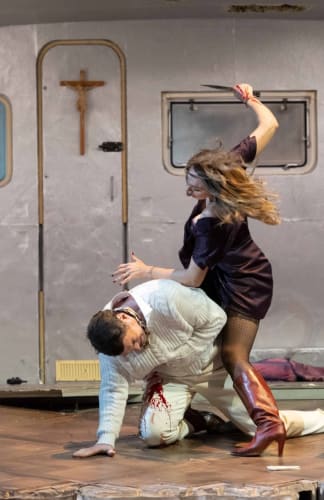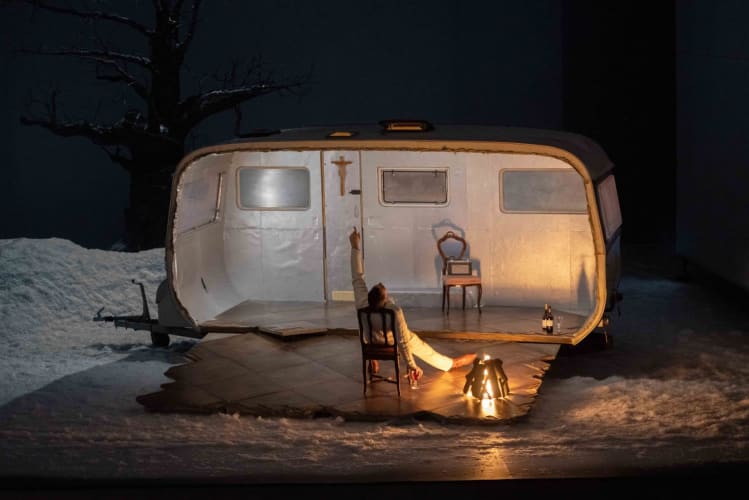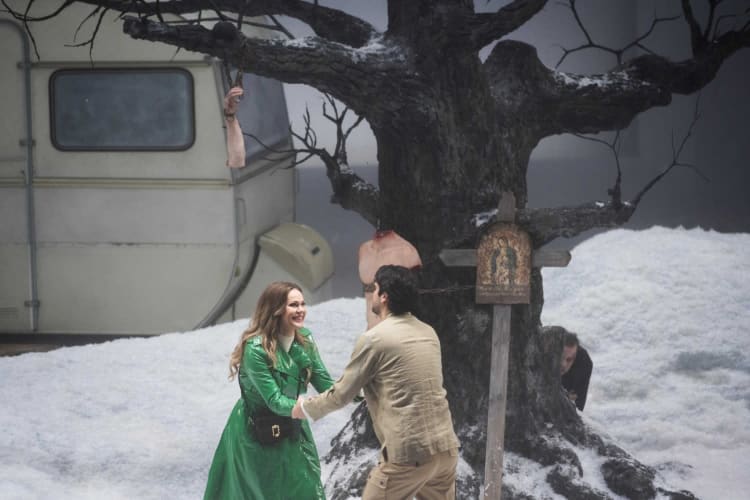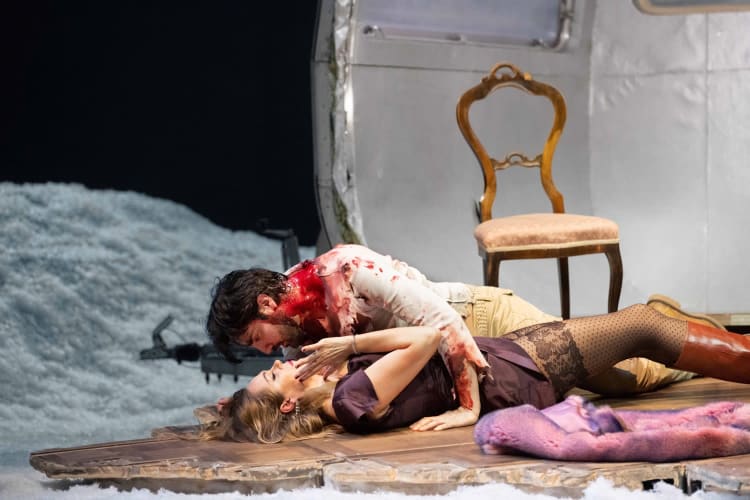 A bloody torso and body parts hang from a gnarled, leafless oak. It is winter in a barren landscape, and snow lies thick on the ground where a painter lives in a battered old caravan.
This, believe it or not, is Tosca—one of those operas, like Carmen, Aida or Turandot, that is otherwise difficult to imagine outside its familiar milieu. Indeed, the piece has twice been filmed in the Sant' Angelo castle, the very location specified in the libretto.
I have a theory about production styles that those countries with little operatic heritage of their own tend to be more conservative about staging, almost as if handling a precious object in a stranger's house and being frightened to mess about with it. That clearly does not apply in much of continental Europe, and certainly not to Theater an der Wein, or Austrian director Martin Kušej.
In an effort to achieve the shock impact of the opera when first performed, he has taken the idea of verismo—true-to-life story-telling—beyond what Puccini himself contemplated, and taken a few pardonable liberties in doing so.
The clothes and key that escaped prisoner Angelotti is seeking are lost in the snow, as the rewritten libretto explains. Cavaradossi's grumbling sacristan is merged with the character of one of Scarpia's henchmen. And in an original and entirely fitting finale—spoiler alert—Cavaradossi is despatched with a single pistol shot, and Tosca dies not by throwing herself from a battlement, often an awkward moment in any production, but is shot by Angelotti's sister, the Countess Attavanti, presumably for being responsible for his death by betraying his whereabouts.
Inevitably, some incongruities arise in the transference of location from Rome to an arctic wilderness strewn with carnage: Police thugs arrive to one of the score's jolliest tunes to comic effect; Tosca and Cavaradossi swear their love oblivious of the severed arm above them; chief of police Scarpia has apparently deserted his luxury apartments to do his business in another old caravan.
But the greatest weakness in the production results from the excision of the dark, religious hypocrisy in the original setting. Scarpia's sudden appearance while a crowd celebrates the "Te Deum" is one of the most dramatic entries in all opera; here he merely steps out of a battered mobile home.
Even the notes in the helpful booklet accompanying the DVD admit that Kušej's interpretation of the piece provoked controversy. Some aspects work well in this challenging production, but on balance the demerits outweigh its plus points.
The principals on the other hand are excellent vocally, a dream couple pairing of Kristine Opolais and her real-life partner Jonathan Tetelman. The latter intensifies the passion as the story unfolds, until the closing "E lucevan l'estelle" which he sings with wonderful fluidity.
Opolais, one of the world's leading interpreters of the role, including a memorable Covent Garden appearance with Bryn Terfel as Scarpia, is a playful, sexy Tosca, smooth and smoochy or fiery and declamatory as required.
Gabor Bretz plays Scarpia with a simmering, quiet arrogance, coolly ordering Cavaradossi's torture while looking Tosca straight in the eye, and leaving a knife lying around with a you-wouldn't-dare insouciance. We all know how that ends.
Reviewer: Colin Davison