Tosca
Composed by Giacomo Puccini, libretto by Luigi Illica and Giuseppe Giacosa, based on La Tosca by Victorien Sardou
Met Opera on Demand
Metropolitan Opera House, New York
From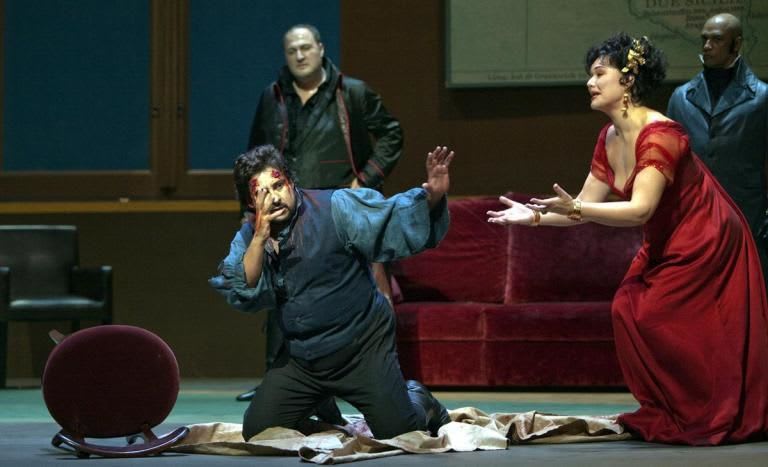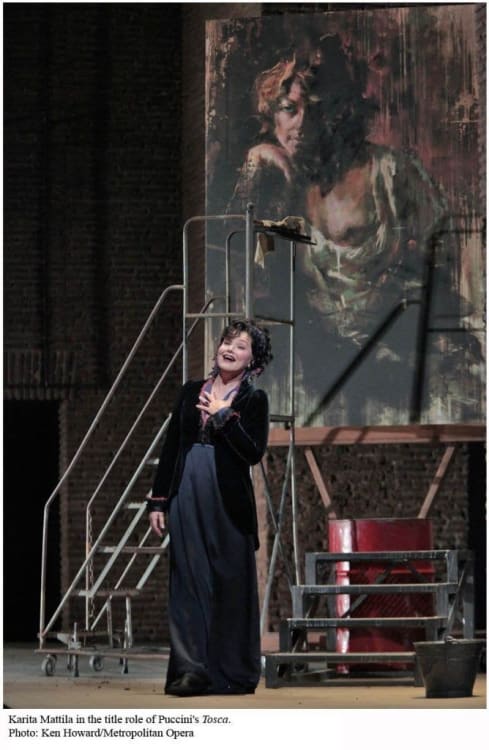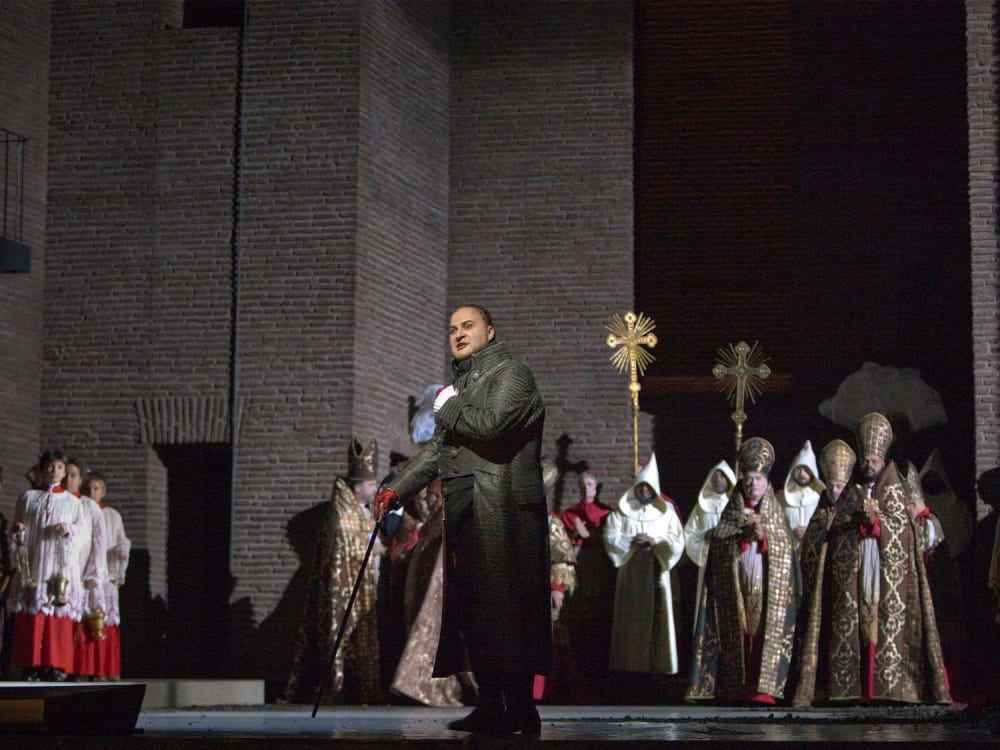 Can Tosca, the celebrated jealous diva, save Cavaradossi, her charming boyish painter lover, a Republican sympathiser, from a traitor's death?
Victorien Sardou, the most prolific of the French nineteenth century dramatists, catered for popular taste, providing the public with political and sexual intrigue, jealousy, betrayal, treachery, police interrogation, torture (off-stage), seduction, murder, a mock military execution (which turns out to be real) and a suicide in which the heroine leaps from the battlements.
There is nothing subtle about Sardou's play. There is nothing subtle about Puccini's opera which raises the melodrama to a higher level. Passionate relationships bring out the best in Puccini.
The first act takes place in a church. Even Tosca is aware that her and Cavaradossi's erotic abandonment is totally inappropriate in a church and especially directly in front of a painting of the Madonna.
On the first night of Sardou's Tosca in 1887, it was said that Sarah Bernhardt generated enough electricity to light up the streets of London. The play was an unqualified success and a regular standby for Bernhardt until her death.
Tosca remains a star vehicle to this day; but only in Puccini's opera. The most famous Tosca in the 20th century is Maria Callas. Her performance has passed into legend and is remembered even by people who never saw her. Puccini's opera premièred in 1899 in Rome. Its popularity is undiminished.
The present performance, directed by Luc Bondy and conducted by Joseph Colaneri, was seen at The Metropolitan in New York in 2009 with Karita Mattila as Tosca, Marcelo Álvarez as Cavaradossi and George Gagnidze as Scarpia.
A major disappointment is the sets. The end of the first act is one of the most thrilling climaxes in all opera. At the very moment that the choir and churchgoers are singing the "Te Deum", so is Scarpia, the evil Head of Police, vowing to hang Cavaradossi and seduce Tosca. Here, quite overcome by his lust, he kisses a statuette of the Madonna full on the mouth as it was a sex toy.
The brilliant counterpointing of the religious and the murderous and lecherous is spine-tingling and needs a grandiose setting to match the grandiose singing. This church is too threadbare. Similarly, Scarpia, who is, after all, one of the great villains in history and theatre, deserves a better office. His favourite hobby after sex is torture. He already has a reptilian sadist for an aide. Luc Bondy introduces three whores for him to play with. There are moments when George Gagnidze looks surprisingly like Francis L Sullivan; no higher compliment could be paid.
The second act, apart from the torture and attempted rape, has one of Puccini's great arias, which Karita Mattila sings to cheers. But Bondy gives her nothing meaningful to do after she has murdered Scorpia. She just wanders round the set aimlessly until the curtain comes down.
The third act suffers from the long-delayed entrance of Cavaradossi. Bondy fills in the time with the soldiers of the execution squad having a belated rehearsal.
"Never have I found life so sweet!" sings Marcelo Álvarez. "My love has saved your life!" sings Karita Mattila, brandishing a safe-conduct letter. The lovers describe themselves as "two souls soaring with ecstasy." Burning love is what Puccini's operas are all about.
I always look forward to the opera's famous climax, hoping against hope to see what Peter Ustinov once saw and that was Tosca jumping off the battlements on to the mattresses below, behind the scenery, only, to her horror, to find herself bouncing back up and reappearing over the battlements.
Mattila, sadly, does not jump. There is a blackout just as she is about to jump. Which is a big cheat.
There are a number of ways of tapping into this opera and others at will. The Met Opera on Demand service offers annual ($149.99) and monthly ($14.99) subscriptions as well as a one-off payment ($4.99) for those who have limited time or only want to watch the occasional opera.
Reviewer: Robert Tanitch